Football is no doubt the most talked about sport in the world and there is a huge revenue that goes in and out of the game annually. The list of the most valued clubs in Europe and no doubt the World has shown that clubs rake in millions of pounds in television rights, endorsement deals as well as transfer of players across the leagues. Here is the list of the estimated most valued club as released by Forbes mid last year.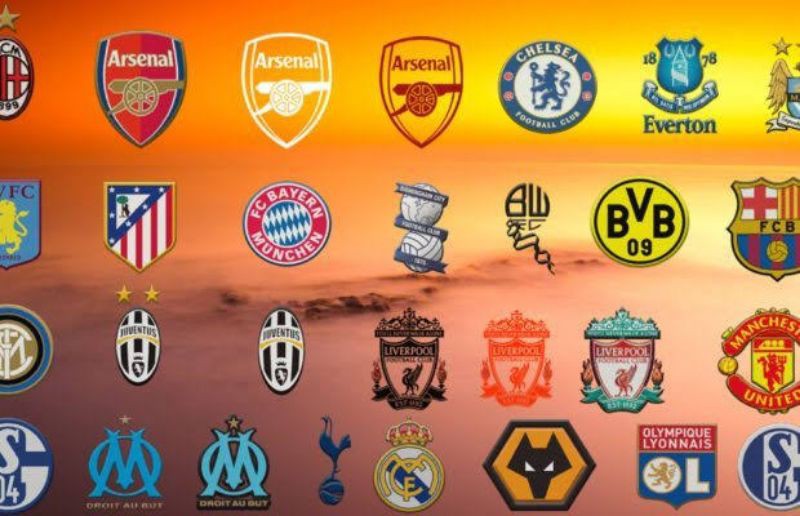 1. MAN UNITED- £2.92b
Manchester United displaced their Spanish counter part Real Madrid to top the most valued club in 2018. Manchester United you will agree with me is the most successful English side in history. Forbe according to released list over took Real Madrid after a wonderful Europa competition as well as booking their place in champions league of the 2018/19 season. Manchester United in the period signed a contract deal with companies like Adidas and Chevrolet including their 99% fans turn over which is the highest in the world, generating them over $105m on match day ticket sales drinks and parking lot charges as well as TV and broadcasting rights.
2. REAL MADRID £2.62b
Real Madrid has dominated UEFA Champions league for three seasons on the run but has failed to hit the number spot of the most valued clubs in Europe. Madrid revenue aside winning the Champions league trophy come mainly from shirt sales especially those of Ronaldo and winning World club cup tournament. Their activities in the transfer windows deal including those of Alvaro Morata to Chelsea two seasons ago, James Rodriquez moving to Bayern at value of $110m all together was big boost not including their match day revenue per annum valued at $670m, broadcast rights and commercials income as well Ronaldo's £100m move to Juventus.
3. BARCELONA £2.49b
The Spanish club is ranked third on the log with a distance 0.6b. Barcelona in the last few years has witness very minimal success in European competition, however maintains their position on the 3rd place following successful dominance of the Spanish la Liga as expense of Madrid including transfer of one of their talents: Neymar Jr to French capital Paris Saint Germaine in a €222 deal with another contract deal entered with Nike ($168m per annum) till 2020. However the drafting in of Liverpool Coutinho, Dembele and Lionel Messi improved new contract of over £500 a week shock the revenue of Barca.
4. BAYERN MUNICH £2.29b
Bayer Munich seems to have no club to challenge them in Germany after lifting the German league for the 5th time amd maintaining a zero net debt; currently the least in the world. The club has a stand by policy of not investing huge sum in the transfer market and this has helped the raked 25% revenue as well as lifting their 25th Bundesliga tittle and getting the DFB-pokal final. The club had a television broadcast deal valued at $1.67m per year signed at the end of last season and seems to maintain that dominance if other clubs don't Cary out effective transfer deals to the league.
5. MANCHESTER CITY - £1.93b
On the top 5 teams is premier league Manchester City Fc and the second club in England on the list. Manchester city has relatively being a force in Europe as they keep up with their revolution under head coach Guardiola scooped $234m in televised live broadcast more than s club. However, their increased deals in the transfer windows made them give out a cheque valued at the same rate in the pass two seasons under Pep Guardiola and over $70 lost in transfer market.
6. ARSENAL £1.88b
Arsenal fc to is valued to be the the sixth richest football club in Europe at the moment. After not making up the premier league top 4 teams last season and its first time in the last 20 year have their growth revenue fall by 10% with costliest game ticket in the league. Winning 3 FA cups in five seasons and little activities in the transfer market saw revenue influx. Arsenal got a share of $58m from the premier league broadcasting contract.
7 CHELSEA FC £1.580b
Chelsea maintained a position among top ten clubs following a season absence in UEFA Champions league competition. However raked in some some millions of pounds by winning the FA cup; league titles in recent seasons with a big share of huge English top flight television contract estimated at €447m. Chelsea fc signed a new contract deal with drink firm Carabao at $139.8m per annum with match day revenue of $75m.
8 LIVERPOOL £1.145b
Liverpool despite a long absence at the Champions league for some years before last season and trophy drought but their participation in Europa league had kept them in the top ten richest football clubs. Liverpool witnessed increased in match day income largely on stadium expansion and share of premier league television contract and the transfer of coutinho (£108m) to Barcelona.
9 JUVENTUS £1.302b
The Italian power house Junventus has lifted the Seria A title for the six time in a role and getting to feature in the Champions league semi finals twice consecutively but unlucky on both occasions. There was a rise in the revenue following sponsorship deal entered with car manufacturing company jeep, match fay revenue around £32m and jersey sale from the movement of Ronaldo to Italy around £1.6m generated
10 Tottenham £1.16b
Tottenham completed the to ten most valued club with £1.16bn following little activities in the transfer windows over and huge income in television right.