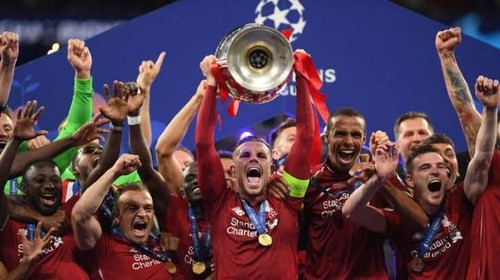 Wonderful Atmosphere

It was a wonderful night in Madrid as two premier league teams slugged it out in this year's UEFA Champions league finals. With Liverpool haven't beaten Barcelona in a miraculous fashions and Tottenham breaking Ajax heart in a magical moment. Both managers were to decide which part of England the cup will go: London or Liverpool as the manager were technical in their team set up with three changes each to the squad that played the second legs of the semi's. Kane and Firnino coming it.
Early goal lead
Liverpool started the game pretty well by taking the drive's seats very early in the game through Mo Salah penalty who converted a foul after Moussa Sissoko had blocked Mane's ball with his hands in the box. Eve though many argued that it wasn't suppose to be a free kick after the ball deflected off Sissoko's chest but those are part of the game. This ball was straight after the kick off as a long ball got on Mane's path as he controlled the ball at the edge of the keepers box, cut in to deliver a cross to Firmino when it was intercepted.
Tottenham had to put the early mistake behind them to dominate much of the proceedings immediately via Moussa Sissoko's shot outside the box which went so wide to the fans behind the goal post. Things never seems to change as Spurs continue to search for a break in for equaliser with continued possession of the ball. However, Liverpool had the opportunity to doubled their lead when Alexander Arnold from distance called Loris to action with a powerful shot off the eighteen yard box but his effort was a bit wide of the far corner. Both teams continued with series of unsuccessful pass and slowed the pace of the game. Another action before the half time was when Andy Robertson tested Hugo Lloris again from distance after a lady on a swin trunk had interupted the game.
Second half
Dele Ali got his shot blocked by Trent Alexander Arnold. This was some minutes after Robertson had shut another move when Sissoko got the ball to Erikson who found Winks in the kick off of the second half. With much pressure on Liverpool this time around, Jurgen Klopp had to bring in Divock Origi and James Milner in place for Firmino and Wijnaldum in that's order while his counter part Pochettino done few minutes later brought in Lucas Moura and Eric Dier to replace Harry Winks and Moussa Sissoko to counter the change of formation Klopp was trying to place. This almost paid off as Spurs continued to dominate the game with another on target through Son: who had been wasteful in front of goals as his shot was dealt with by Alisson. The keepers seemed to be very much in the game when the answers another call through Moura's shots.
With ten minutes to the stoppage time, Tottemham kept on pressurizing and they almost got a goal through a Christian Eriksen freekick but Alisson was at it again as he punched the ball to the corner kick to keep the Danish effort out. Spur were left to lick their wounds and regrettably their missed chances when their opponent went two goals up at the critical minute.
The last straw that broke the Carmel back was when Spurs defence line inability to deal with a ball in their eighteen yard box through a corner kick and Dier who suppose to clear the ball off by nodding headed it toward his post which was intercepted by Divock Origi who came in for Firmino and he did very well to finished the ball perfectly into the bottom corner left of Loris who was unlucky to touch the ball. This was followed by some few attempts by Spur in the additional time to get a goal but all their efforts we decisively dealt with by the Liverpool defence and keeper.
Final whistle
At the sound of the center referee whistle, the Liverpool club fans and players where all over the places jubilating as they put behind the memories of last season to the garbage. It was also a good memories for Jorgan Klopp who has been very unlucky at finals in his careers as his get this one pass him.
Kudo must go to Pochettino and his boys for a wonderful performance as they dominated the game but were not clinical with their chances as well lacking that experience in his side at this stage of the UEFA Champions League. It all win win for the English premier league this season.
Congratulations to Liverpool!
Congratulations to Klopp
Congratulations to EPL Team.