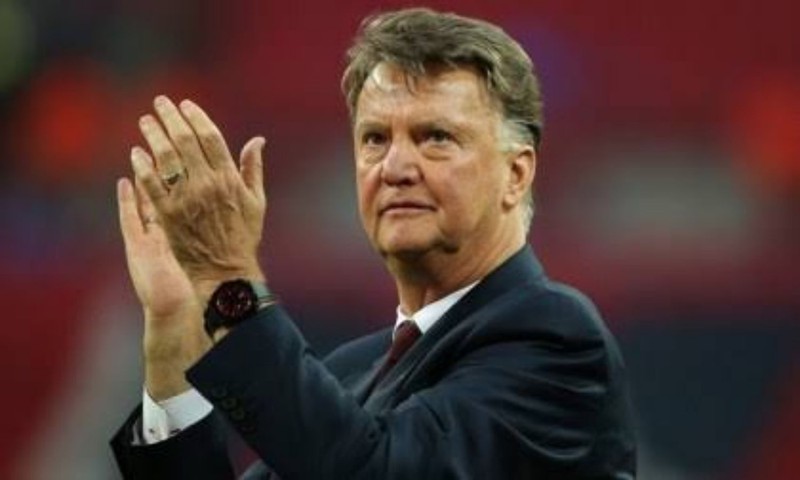 Manchester United former boss Louise van Gaal has taken a decision to call a day in his successful managerial career yesterday when he told the world he was leaving the stage due to the promised he made to his wife. The man who took over Manchester United from David Moyes to restore the club's glory when he went on a transfer spree to buy Angel Di Maria, Daley Blind, Luke Shaw, Ander Herrera, In a press release, he was quoted thus on Monday

That he ha become a pensioner and have no ambition to be a technical director or pundit. He emphasized how his wife Truus gave up her job for him 22 years ago and was following him where ever he went abroad.
He went on to say his wide was entitled to have a life with him outside of football career.
Louise was born on 8th of August in1951 as a catholic and Dutch citizen into a family 9 children as the youngest. He grew up to become a football player forr Royal Antwerp before moving to other clubs like Telstar, Ajax, Sparta and AZ. During this time, Louise was combining his football with teaching in high school as education teacher. At 18 years of age young van Gaal met his wife and they married years later but Fernanda some years later passed away due to her liver and pancreatic cancer. Their their union was blessed with two daughters. However, around 2008 married Truus who happens to be his present wife.
His coaching career started when he was appointed as an assistant coach at AZ before moving to Ajax under head coach Leo Beenhakker as his assistance and in 1991 took over the club as the head coach.He is considered one of the most successful managers in football and has been decorated with 20 trophies in 899 matches he managed during his career. Upon taking over Ajax, he won 3 Eredivisie titles with them but his praises began when he took Ajax to lift the honored Champions League title in 1995 and UEFA Cup after four years in Ajax. Later in his journey moved to Spain to manage Barcelona where he took over from Bobby Robson in 1997 and eventually two won La liga titles within two years plus one Copa del Rey but however left the club when he came under heavy criticism from his clash with Spanish sport media. In 2002, he took over his national team side for failed to qualify them to the FIFA World Cup and later went to Barca in an unsuccessfully second missionary journey. Louise moved to manage his country league side AZ and won the Eredivisie title.
In 2009 saw him hired by Germain giant Bayern Munich where he lifted Bundesliga, DFB-Pokal and as well getting to the Champions League final. He left Bayern to manage his country national team once again and led them to the 2014 FIFA World Cup before moving to Manchester United in 2016 where he won their first trophy (FA Cup) after sir Ferguson's era. He was sacked two days later in what was a fall out in the dressing room when he came out openly to question some players' commitment. Since then, he had not managed another club on personal reasons.
For every beginning, there is an end. The blue print you left in the 21st century football especially your style of play and philosophy will continued to be improved on as well as the player you brought out their potentials. Happy retirement van Gaal as you spend your time with your family and love once.