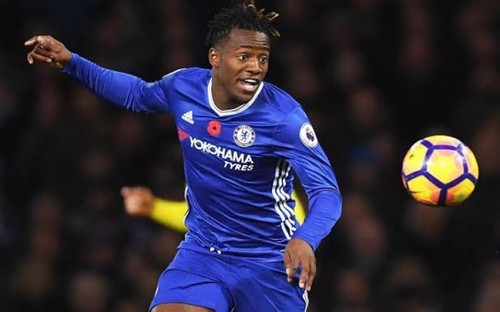 Chelsea under Frank Lampard has been questioned by fans and pundits why Michy Batshuayi is yet to feature in any match so far under him this season. Batshuayi who is a relatively a better striker that the Tammy Abraham is experience and playing time is finding it hard to break into the starting eleven.
..
Lampard yesterday while answering question about the form of the team ahead of their game against Norwich this weekend responded that Michy remains part of his square and that he is needed to up his game if he must displace the likes of Giroud and Abraham. Michy who scored a brase against Liverpool with the development team on Monday is being rumoured to wanting to leave the London club.
...
AS Roman has been keen to lure the 25 years old Belgian away from Stamford Bridge but it seems Batshuayi has made up his mind to fight for a place in Lampard's team. Signed from Marsielle in 2016 for £33m, Michy was used as a point man upfront by Antonio Conte before he was sent on loan to Borussia Dortmund where he had a very successful season. Last season was a difficult one as his short loan spells at Valencia and Crystal Palace yielded only 13 goals in as many appearances.
..
On the team update, Frank Lampard emphasized that absent Rudigal is not yet fit for this weekend games like wise Kante will be absent due to ankle injuries. Lampard will be getting ready to pick his first three points of the season away to a Norwich side that lost last at home back in January against Lampard's Derby County led side.