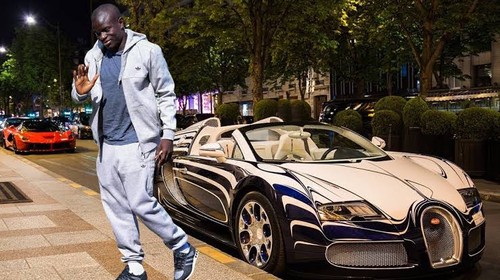 Chelsea midfield Ngolo Kante is the new. I have come to understand that money does influence some peoples behaviours no matter how much they got in the account. Kante and Hazard are two individuals who lives a quiet life without making fuse about it. Ngolo Kante's is partially boiled down to his Personality being an extremely shy dude.
.
This weekend, the French who suppose yo be with the national team for the international friendlies game was ruled due to injury. Inability to play in the Euro qualifier made Kante to put a call to Frank Khalid whose daughter was wedding that he will be attending haven earlier turned down the invites due to his engagement.
Mr Frank Khalid described Kante a good family friend who very humble and actually sat for the wedding till the end to pose for photo with the celebrants.
.
While at the venue of the wedding, Kante had a big deal design with some Liverpool supporters who were asking him questions. On of the supporters asked him " This is Anfield,
This is where you need to come, this is where you need to come" referring to Anfield. Well, not being the eloquent type he shook his head in disagreement while putting up a bold smile.
.
Anfield is a good to place to go at the moment seeing the team his now structured to continue to wins trophies in some seasons more to come but Kante is already committed at Chelsea and a key player for the matter. Frank Lampard will not sanction such sale. It is remain to be seen if the French international will depart Chelsea any time soon or push for one but going to is a no, no answer.
Thanks for reading.