Childhood life
Growing up was really fun because I found myself doing things ordinarily my age mate couldn't do when it come to gaming. In school, our teacher was really a poker game lover. Will I say he inducted me into loving the game? Initially, I was this timid kid that avoided everyone at all cost. I rarely talk to anybody or socialize but my result (1st or 2nd) was never a surprise to anyone. Very quiet, unfriendly, attentive and high recalling memories such were my attribute.
''Hey Phils, why is that you don't play or associate with other kids'' Mum had asked me on two or three occasions.
''That makes them fear you and think something is wrong with you. I know you are a good kid that is very loving and caring. Please, I beg you sweet heart. Fine time to associate with them'' She pleaded with me almost in tears. May be somebody must have castigated her how awful her son is. I felt her pain and began to adjust. I was just 4 years.
From then onwards I gave other kids opportunity to come closer. I started participating in some sporting activities that didn't require physical contact but high mental strength. One afternoon, Sir Jon to complain to me about a contest he was about hosting for the school pupils.
The School Contest
''Hi lips''; his nickname for me, there is a poker game coming up next week i initiated for you guys and I will be pleased if you partake in it and make our class proud. I know you have all it takes to win it'' he told me.
''I will be pleased to honour your invitation Sir Jon'' I subtly replied
Immediately I came back from school, I went to dad's library and read all his collections on poker games. Dad always plays poker with his old school friend Bob on weekend at home. So, getting to know the rules were simply by observation.
The week of the contest came; a class was divided to group of 4 to produce the winner that will represent the class in the finals. A winner gets 3 points in each round. We had five rounds and I emerged with 9 of 12 points. Then, I went on to win the three other group champion to represent my class in the whole school.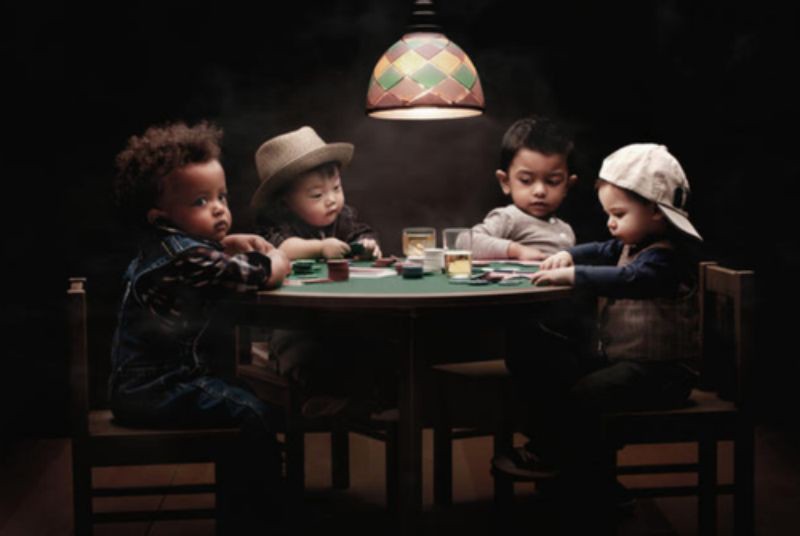 My dad didn't believe it when he learnt I defeated six other pupils who were far above me in class to win the St Paul's Academic Poker contest.
''Wow! Phils congratulation'' He said
''I was in bus coming back from work when I overheard some passenger saying Phils Jr. won his school contest and regarded as a news according to the kids testimonies to their parents''. I simply smiled as usual.
''Thanks dad, I will contest with you this weekend'' I responded.
That weekend, I gave my dad the shock of his life. During one on the days l was going through the library. I came across dad's jotter and secrets on poker game he had written over the years. That help me to emerged champion and applied very well to beat him in his own game for consecutive 6 4 rounds. I was very upset and it was written all over him but the smile he gave me when he touched my head told me he was very proud of me.
''I can't believe phils won you'' I heard my mum telling my dad in the kitchen.
'Sure, he is a genius'' dad said
My Experience the Anubis gods
Most often than not people always say whenever I was in for a challenge ''may the god of poker be with you''. I took as a joke or compliment until the day I heard of Anubis. My little research told me that Anubis is an Egyptian deity that governs such rites as funeral, protector of grave and a whole lot of afterlife theories as well as having a relation to poker. I told dad that I will love to Africa for research findings which he obligated and funded.
The thought of it occupied my mind for all the remaining months until I decide to visit the archaeological site in Africa; Egypt to be precised and on sunny Friday afternoon. I was given a warm welcome to the ancient site and shown around the different departments until I arrived at the sight of large center table with seats made of cave stones in the middle of a big empty hall. I guess it was where the ancient people spent their time playing poker in the king's palace. The rich painting and designs says it all. So, I decided to sit on one of those to have the feel on it.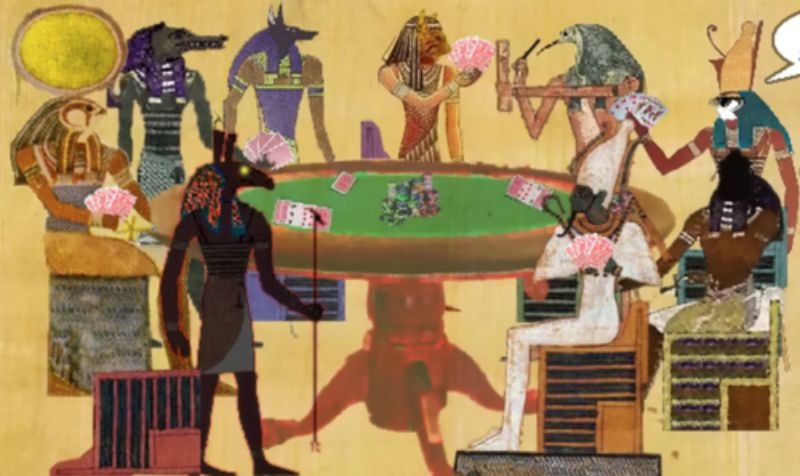 ''You are welcome'' I heard a voice from one person among the table I was setting saying.
It was in the realm of the spirits as I realized myself. They were a kind of mixed creatures with different animal heads but human body guarded by the palace warriors. I began freaking when one told me not to be afraid as I was part of them. Soon afterward we started playing. They started discussing how a man will make exploit if he won. Everything was in parables. I heard them saying he was part of the dynasty in poker and they have been waiting for him for ages to begin the competition. Everything they said was a mirror of my past life.
At the end surprisingly, I won all the 3 rounds of game that looks like I spent ages to play. It was a display of a genius among the gods. After the game, all of them transferred their powers to me as a came back to consciousness. Then the tourist guard surfaced and I asked him how long I have been there. He told me he had left me some few hours ago. I began to freaking out, goose pimple were all over my body as my head became larger than the room. I felt the presence of a strange spirit in and around me. It was thousand on deep voices speaking in unknown tongues.
Immediately I stepped out of the ancient building, I came back to myself but felt a different from a normal human
My Journey to World Champion
From that day onward, I gave myself to studying poker books and moves. All through my high school and college, I was the talk point when it comes to poker. After graduation, I continued non-stop to win many contests and tournaments within the state, playing with my co-workers in New Jersey until I became the state champion. I represented my state to emerge the national champion. It was at the National championship that I won all my contests against the well know pokers in the country without losing any.
After proving my worth at the national level, I proceeded to become the disrupted greatest all round poker player of all time in the person of Phil Ivey. On my way the top, I met many challengers who really put me on my toes. Some were good, some bad and others ugly to be frank. I crossed part with serial losers who came for my life and well as good loser who bought me some bear. It took me some extra efforts, dedication and patience to win my games involving some many tricks I learnt from book and dreams. You heard me right, dreams. That's was the power I possessed since the gods experience. In very difficult situation, I could read peoples mind and in obvious cases, I entered their heads to read or disarrange their thought. Nobody knows this accept know.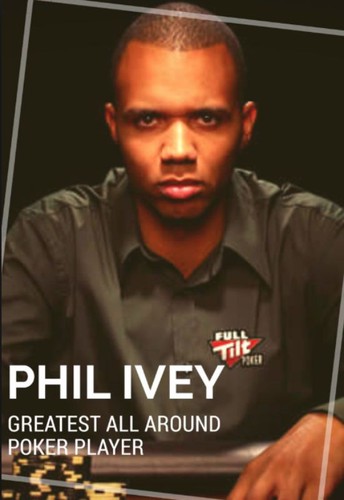 I Phil Ivey was born in 1977, February 1st in Riverside, California and am proud to be an American citizen. In my cabinet are 10 World Series of Poker bracelets and 1 World poker Tour title. Last year, I was inducted into ''Poker hall of fame'' and was nicknamed ''the god of poker''. Next year, I will visit the ancient temple to play poker in another realm.
This is my entry for @pete contest Freaky Friday to support new writers on scorum to gain audience and encouragement. The contest is really gaining momentum as bloggers indicates interest in contest and will like to solicit for your support/sponsorship of this contest. Interested blogger can enter the contest on the link below.
https://scorum.com/en-us/poker/@pete/wow-freaky-friday-november-23-2018