Racism is one factor that sport in general keep battling since time immemorial especially football which is regarded as the king of sports. No doubt the game has the capacity to draw people across ethnic, religion and race boundaries to witness the event but racism remain a bug that needs destroyed from the game. While such abuses are notorious in some region than others but hardly will you dig deep without having a record of racial abuse. I believe racial abuse cut across all race but the black pigmented human has been at the fore front of war.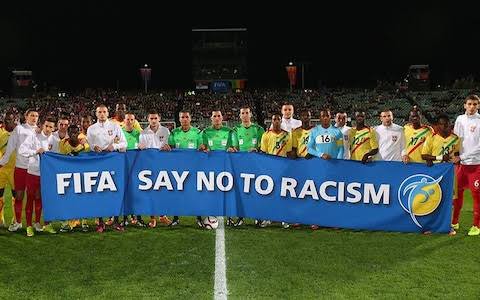 Not worthy to mention that most European countries are often than not are in scourge of news of sport racism than other continents may boil down to the fact that it's center of modern football and thousands of players ply their trade there. While FIFA try to melt out hard punishment to racist country in any of their tournament, the same punitive measures are yet to be adopted by the governing bodies of European leagues.

Manchester City and English national Raheem Sterling have witnessed racist abuses on many occasions and have taken to his social handle to voice our his frustration against the football governing body of the English Premier League for doing little to curb the menace of racism in the league. He questioned the English football journalists on how they portrays black players in their write up and speeches but was emphatic on the consequences. Recall, Sterling while representing his national (England) team was a subject of racial abuse including other black players in in squad at Montenegro as they where noises of monkies chant in the stadium not also forgetting that his case with Chelsea FC is still in court over another incident involving few fans in a game between Chelsea and Manchester City at Stamford Bridge.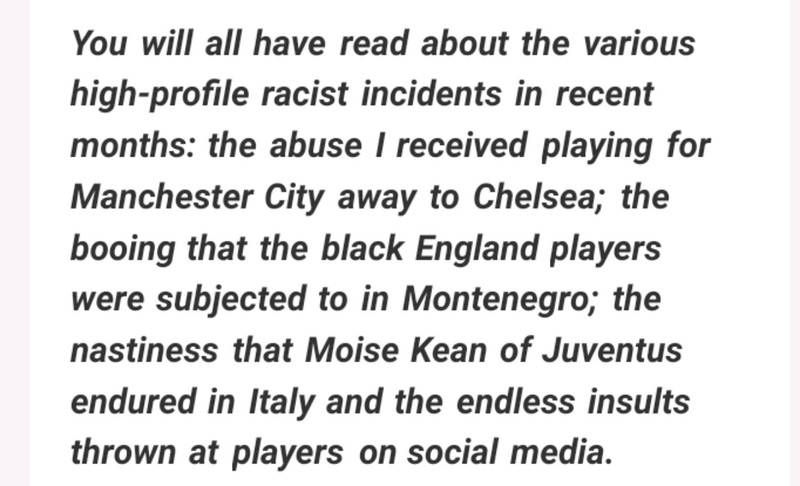 He said the punishment of fining clubs whose fans were involved in a racist pronunciation was nothing to them as they could pay such fines at ease considering the revenue generation base. In his opinion, Sterling suggested few measures that could possibly discourage the behaviour such as nine (9) points deduction from team found guilty in racist chant or three matches stadium ban for fans of such club. Now, if the FA should invoke such measure, what does it means to the club, fans and EPL.
Nine points deduction
Nine point deduction may be seen as too hard measurement but rather reducing it to one match of three points deduction where the incident occurred will be ideal in the sense that 9 points of 3 wasted matches for clubs will be a huge lose on the investors or club owners in terms of mobilizing for matches, players weekly wage bills and having little or no power to control what individual says at the stands is a not considerate. However, when fans sees this from the perspective that 9 or 3 point deduction will put their club in position of relegation or mere their title aspiration, then they trail carefully.
Three matches stadium ban
Stadium ban has been adopted by FIFA as well as UEFA including financial fines on clubs and countries that engages in racial behaviour but it seems the method is achieving little result. According to Sterling, banning fans from watching their club game for 3 matches with a huge revenue lose on the club owners might deter this altitude. With the awareness of the revenue lose this might cost them, the ball will be the owner's court to ensure that only fans with no previous record of racist behaviour or check/policy undertaken by fans while buying tickets with option of fine on such fellow, court trial and life stadium ban can be harsh measures to tackle this menace.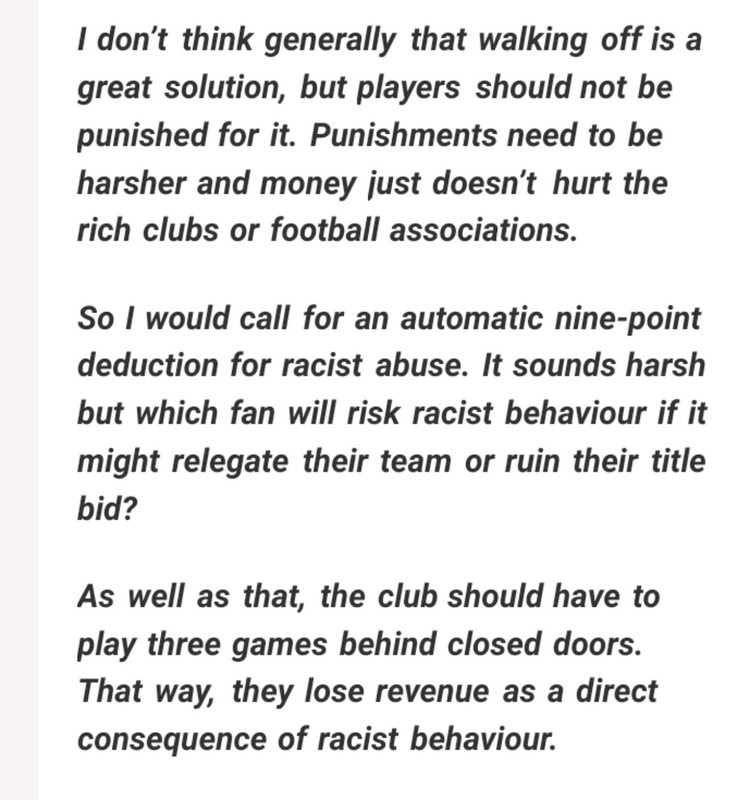 This is a big challenge on the FA to look at the allegations of this behaviour across different tier of competition as well come up with a lasting solution to this problem to maintain the core value of mass adoption of the English football. Sterling points may be too harsh but only an abuser knows better how racial abuse feels.