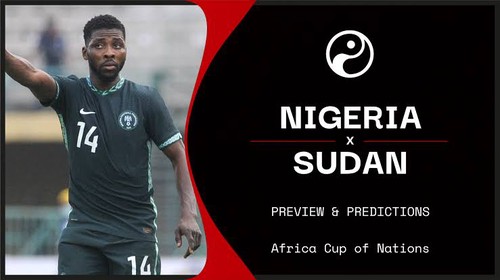 Roumde Adjia Stadium will be the venue for the Super Eagles of Nigeria match against Falcons of Jediane of Sudan in the second group game of group D in the ongoing AFCON 2021 tournament in Cameroon on Saturday. Nigeria is leading the group D with three points after defeating the 7 times winners: Pharaohs of Egypt 1-0 in the group D opening game. Sudan and Guinea-Bissau are on one point apiece after their 0-0 draw the second game of the group D 1st leg.
Sudan head coach Burhan Tia will be concerned with his team lack of goals haven not scored in their last six games after their 2-2 draw against Guinea in October. Sudan have not won any game in their last 11 matches with 4 draws and 7 defeats going into this match.
Nigeria and Sudan have met a record 14 times with Nigeria coming out with 8 wins, 3 draws and 2 defeats; of which the last was Sudan's 1-0 defeat of Nigeria in AfCON 2015 qualifiers. Nigeria are now unbeaten in the last seven games The super Eagles of Nigeria will secure their place in the knock out phase of the competition with a victory against Sudan following their 1-0 victory against the pharaohs of Egypt. While Sudan on the other hand will be delighted to ensure they get at least a point to have a chance to make it to the next stage of the competition after their 0-0 draw against Guinea bissau.
This is most likely a win for the Super Eagles of Nigeria who will put all there firepower into place to ensure they come out victorious. Interim coach of a super Eagles Austin Eguavo said his side will take the match very serious and will not undermine the Falcons of Jediane as they can pull out a surprise at anytime.