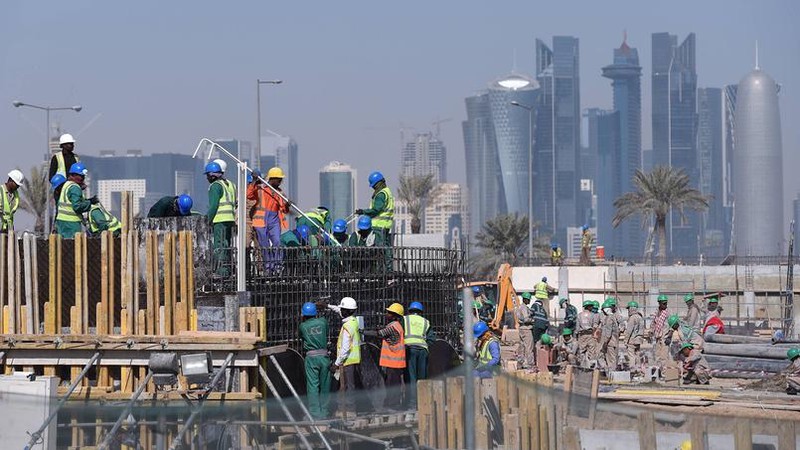 According to an Amnesty International survey released on Wednesday, nationals of Nepal, India and the Philippines have wage arrears of 1,700 euros.

Dozens of foreigners working on one of the World Cup-2022 football camps in Qatar have not been paid for months, Amnesty International said Wednesday in a new report on the Gulf emirate.
10 months of unpaid wages. The human rights organization says nationals of Nepal, India and the Philippines have wage arrears of 1,700 euros, not paid by the Mercury MENA engineering company. For some, this represents the equivalent of 10 months salary.
The NGO has produced its report after interviewing 78 workers at the company, but estimates that the number of people affected could reach hundreds. The company stopped paying salaries in February 2016 and this continued for more than a year.
That "ruined lives"Amnesty believes that the non-payment of wages has "ruined lives" and calls on the Government of Qatar to pay these workers their wages. "By ensuring that they receive their salaries, Qatar can (...) show that it is serious in (its stated willingness) to improve the rights of workers," said Steve Cockburn, director of global issues to Amnesty International.
An ongoing reform on the right to leave the country freely. The NGO believes that the so-called "kafala" system (which allows companies to prohibit its employees from changing employers or leaving the country) has made possible the exploitation by different companies of its foreign employees. The Qatari authorities, for their part, say they have made a lot of efforts to improve the working conditions of immigrant workers, particularly at the level of "kafala", which the government has declared to start dismantling. According to Amnesty, some workers were allowed to leave Qatar, but at their own expense. In early September, Qatar announced that it would abolish exit visas for foreign workers wishing to leave the country, but no date of entry into force of this measure was communicated. For May Romanos, the lead author of Amnesty International's investigation, "there are some improvements, some reforms, but it's slow (...) and time is running out".