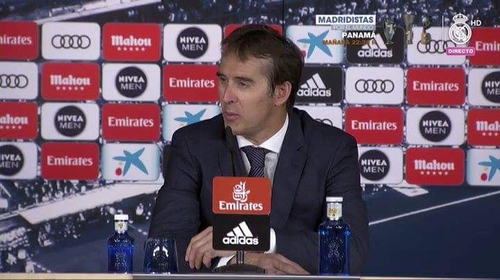 JULIEN LOPETEGUI:
🗣️ "In general, through all lines we're fine. We have to be a team that attacks and defends well. We have to find the point of form in some players. We are happy to win and to make things right."
🗣️ "The team has had intensity. We are happy but not satisfied, we must continue working. Bale has had a very good game like the rest. Gareth gives us different solutions and we try to take advantage of them. Talent is always at the service of the team and in this case is not an exception. Marcelo was exceptional and not only at defending. We want to strengthen the feeling of the group's solidarity."
MATCH REVIEW
Now its time to believe more on Gareth bale as he leads the team to a comfortable victory against the city rival Getafe, Bale is our main man now.
GARETH BALE'S LAST 11 SHOTS ON TARGET FOR REAL MADRID IN ALL COMPETITIONS:
⚽ vs Leganés
⚽ vs Barcelona
⚽ vs Celta
⛔ vs Celta
⚽ vs Celta
⛔ vs Celta
⛔ vs Celta
⚽ vs Villarreal
⚽ vs Liverpool
⚽ vs Liverpool
⚽ vs Getafe
[Via: Opta]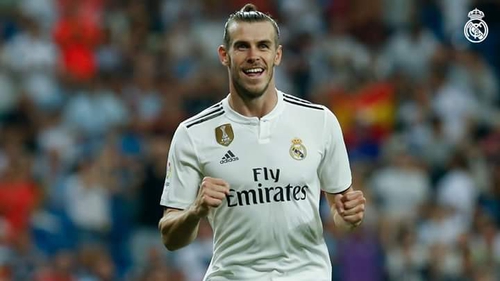 NACHO ON BALE:
"bale does not have to fill ronaldo's shoes, they are two different players. ronaldo's time here was an era and he was very important to us, but gareth is his own player and very important too, he does not need to prove his worth to anyone here."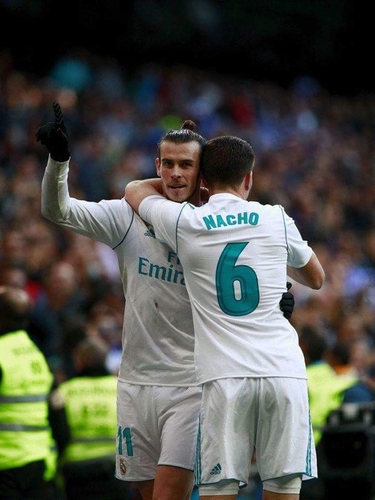 This was the offensive structure we used against Getafe. It made use of Kross' near perfect passing ability and opened up a lot of spaces on the wings for our full-backs since the forward line of Bale-Benz-Asensio kept the opposition defence very narrow.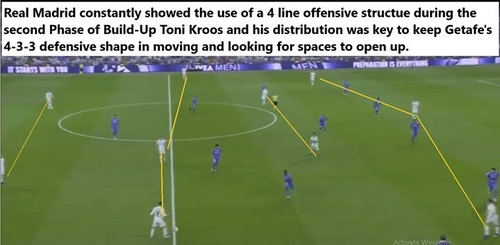 Players are really adapting the system of our new coach. We're holding much more possession and we look more comfortable with the ball. Whenever we lost the ball, we pressed even more to get it back.
Looks really positive to me, I'm pretty sure we will get better and better in the upcoming games. I would still say we need a goalscorer in the team. 3 points for us. Beginning of a new era.
On the lowest attendance since 2009
So the Bernabeu had it's lowest attendance since 2009 and some think the fans are disinterested because Ronaldo left. Wow.
First of all, these are Spaniards with season tickets who have been watching Real at the Bernabeu since way before Ronaldo ever set foot on the pitch. So you think they're Ronaldo fanboys who will just stop watching Madrid now that Ronaldo is gone?
Second of all, the kick off was at 10:15 Spanish time on a Sunday night. La Liga is known to have low turnouts when they kick off games too late. Fans have boycotted late kick offs before this. Since the timings are very inconvenienct in the next few match weeks, this could be a good message for La Liga.
Finally, fans are probably upset and showing it by boycotting matches, as Real Madrid's transfer activity has been incredibly poor. We sold our best goal scorer (probably the best player), and sent one of the best midfielders away without buying any replacement. Instead, we bought a right back and a goal keeper. We also lost a trophy to Atletico right after, showing our vulnerability. This could be the fans' way of saying, 'buy us players Florentino'.
It's an insanely stupid opinion to think Spaniards stopped watching their hometown club because a certain Ronaldo left. I mean, grow up.
P.S - Barcelona had a low attendance on Saturday. It's also the summer holidays in Spain when most rich people are out of their home towns on vacation.
Original content by @mycr7
Image source:optal, Marca.com,realmadridcf.com
Thanks