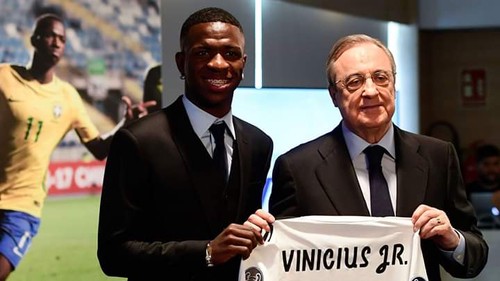 I think that for both our team's good and for him personally, Vinicius Jr needs to get more first-team action, and here's why.
Vinicius Jr was signed to serve as a potential long-term replacement for the now Juventus-based superstar, our club legend, Cristiano Ronaldo. And we all know he's nowhere near a millionth of that title- but he has to start from somewhere. He played a total of only 12 minutes under Julen Lopetegui who was relieved of his role as head manager months ago. Solari definitely doesn't seem to be making that mistake (Not giving Vinicius chances) anytime soon.
He knows the Brazilian youngster more than anyone else in the club. Under Solari at Castilla, he scored 4 goals in 5 games. And in his very first start for the club, he provided two assists. That's a pretty fair return for a player of his experience. Let's flashback to what Solari said earlier, "He has a lot to learn, but also a lot to give. If he is here, it is because he is good enough."
Vinicius is ready to give his all and fight for the right to be included in more games- and that's the type of spirit we need in the club. We've already seen what he brings to the team on the pitch. His pace causes problems for the opponent team down the flanks, the razzle-dazzle moves he executes to make a defender lose his mind and his adventurous ability to cut into the box and pick a shot out from almost any angle. These are few of the things our attack has been lacking this season.
You never can know, Vinicius might be the one to bring us back that pizzazz we once had in attack. Aside all this, more playing time will help the youngster mature and learn to make better decisions under pressure.
Ex-Barcelona player Rivaldo on Vinicius Jr- "He should have been playing right from the start of the season". Well the thing about this quote is, saying he should have been playing since the season started- is basically insinuating that he has the ability to bench a usual starter. And I don't think that's true, yet. A big part of me wants him to be given more chances- and a BIGGER part of me hopes too much expectations won't be unloaded on him. He's still young. I can name numerous youngsters who were supposedly "The next big thing" - and are now playing 5th division football.
Vinicius could end up amongst them. Or he could end up being the 'Mbappe' of La Liga. But I guess we'll never know- unless he gets more playing time.
HALA MADRID