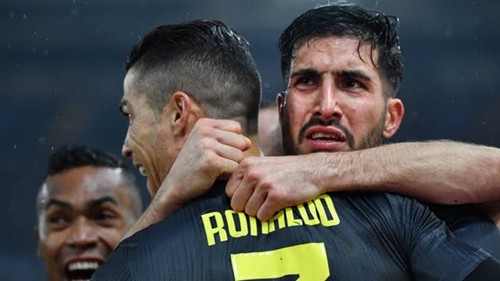 Cristiano Ronaldo is very reasonable if he gets the label as the world's best player. If you see from the acquisition of five Ballon d'Or. But different If according to his teammate, Emre Can, Ronaldo looks the same as a player in general.
Ronaldo and America are both Anyar players owned by Juventus. Both were brought to Juventus at the start of the 2018-2019 season, of course with different Tan transfer values. Emre Can was brought free from Liverpool, while for the tranfers Cristiano Ronaldo Juventus had to spend 100 million euros.
Both of them are not only this time they are brought together. Emre also met Ronaldo when Liverpool fell 1-3 by Real Madrid in last season's Champions League final. he also witnessed Ronaldo's expertise while still playing with Real Madrid.
five ballon d'Or acquisition owned by Ronaldo is certainly not an arbitrary acquisition. Emre can admit he deserves to be the best player in the world. But there is something different about Cristiano Ronaldo when in the dressing room. Yeah, it behaves the same as the other players.
According to him, even though Ronaldo is one of the best players in the world. But he applies the same as the others when in the dressing room. they worked hard together to create a victory for Juventus. In the dressing room they also often joke to eat with their own staff.
they are also often asked by their family about Ronaldo who plays with a group with him. Yes, he only replied that the 34-year-old Portuguese was humble and not arrogant.
So far in 24 matches at Juventus, Ronaldo has managed to score 19 goals and 8 assists in Serie A. Lastly he managed to break twice Frosinone's goal and one assist for Dybala. So, the clause nicknamed "the old sinyonya" was 3-0 ahead of Frosinone.