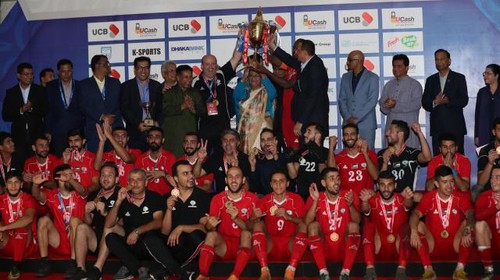 Bangabandhu Gold Cup champions Palestine lose 4-0 goals in T20
Palestine in the Bangabandhu Gold Cup International Football Tournament This evening, they beat Tajikistan 4-3 in the hard-fought final at the Bangabandhu National Stadium in the evening. The scheduled and extra-time game was a noisy draw.
In the final, the expectations of the football fans, all of which have been found today at the Bangabandhu National Stadium. The scheduled 90 minutes, additional 30 minutes of attack-counter attack, but no team did not score goals. Ultimately, the title is resolved in the tiebreaker. Prime Minister Sheikh Hasina handed over the trophy to the Captain of the champion team at the end of the finals.
Tajiq's great success can be achieved in extra time in extra time. Because Tajikistan played 86 minutes with 10 people. In the 34th minute, 10 people played better before being in the group, the 120th in the FIFA rankings, they played well after the red card. Palestine, however, lost the Tajiks group stage 2-0. But in the final, he did not score a goal against the team, but the 100th Palestine in the ranking.
In 2006, Tajikistan won the AFC Challenge Cup in the field. The team could not bring back the winning effort with a lot of effort. But the crowd caught the crowd Fighting with so long for 10 people is really amazing. In the 34th minute, the final pace stops a bit in an exciting event. Tajikistan's captain Fathkullev Fatekhulo was forced to tighten the Palestinian midfielder Sameh Marah. Both fall. He got upset and hit the headlines of the Tajik captain Marhake Palestinian midfielder Mohammed Rashid came and hit a Tajik player and added tension. Strikers Ergashov Jahangir kicked a Palestinian player in the crowd of players The referee of Bangladesh Mizanur Rahman showed the red card, who has caused the origin of the incident, the Tajik captain Yellow card shows Palestine midfielder Rashid, who has pushed. But kicked junkie Jahangir survived the 'Sticker number number' Ershad!
A red card is enough for the defeat of any team. But in the ruin of the destruction, Tajiks fought with 10 people, and with the Palestinians coming up again and again, But in the end, Tibrekar's name could not pass the fate, but the Central Asian country could not pass the fate.