Looking for more information on Red Star, French journalists came up to her until recently players who now play for Montpellier.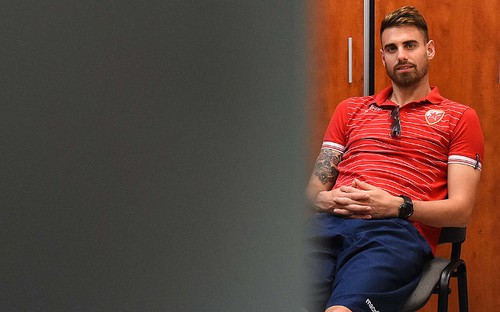 While counting hours before the start of the match between PSG and Red Star, the French "Frans football" published an extensive interview with Damian Le Talek, who presented the Serbian champion to the local public in the best way.
At the beginning, Le Talek asked them to discover their most memorable experiences from a two-year stay in the Red Star.
'' Atmosphere on the derby against Partizan! I felt it at least ten times, every time it was exceptional, in our field or on a roaming trip. It can only be experienced in several places in Europe, this is a huge passion!
We also won two titles (2015/16 and 2017/18), with excellent results in Europe that have not happened to the club for years, "said Le Talek.
There was a question about the place and significance of the Red Star in Serbia, and Le Talek's answer will surely like her fans.
"It's a very popular club number 1 in Serbia! In front of Partizan! Everyone is for the Red Star, it has many fans, but not only in Serbia. Many people had to leave the country because of the war and now they live throughout Europe. We could see this as we played matches in the Europa League. People from all over came to support us. They are everywhere! ", Says Le Talek.
We are witnessing these days that in Paris they fear the arrival of "Delias", they are afraid of possible incidents that could provoke them, but Le Talek assures them that they have no reason to do so.
"They do not go to roaming in order to be beaten or to make incidents. This is not true. We played in the Europa League last season and there was no problem at all, either at home or at home. It was always very good, and what is certain is that they create a great atmosphere, "assures Le Talek.
He then highlighted the progress of the Red Star in the past few years.
'' The club quickly renewed, changed everything and again became very attractive, with a large number of fans. This is a very serious club ", stresses Le Talek.
Paris Saint-Germain will be visiting Maracana on December 11, so the French are interested in what can be expected.
"It will be very, very 'hot' Napoli could already feel it. When I say hot, I mean the extraordinary atmosphere of the stadium.
Even PSG players will admire this!
There will be no hostility. This happens only during the derby between the Red Star and Partizan. In Europe, fans have nothing against their opponents, "said Le Talek.
Inevitably there was also a question about a tunnel on Maracana and scary graffiti, but Le Talek assures that the tunnel is now considerably rearranged and that there is nothing unusual except that it is a little longer than usual.
"It's true that, when I arrived, there were any graphite everywhere. But there is nothing strange about this tunnel, "he said.
In the end, he commented on the current composition of the Red Star, stressing that her defense was very strong, last season even the best in the League of Europe, and when the offensive line of the team was concerned, Ben also pointed out, and the failure of Boakie for the injury.