There is no reason that Barcelona and Real will not win a new win. In addition to the two towns, there is also a regional derby.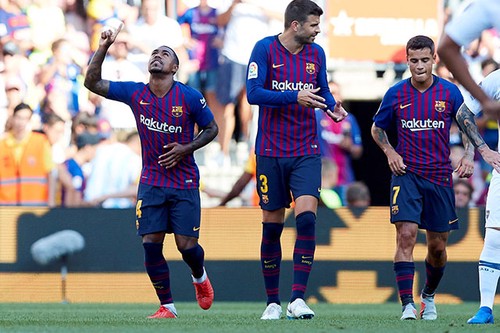 It's a third round of the Spanish Primera, where the Barcelona champion, like Real Madrid, is expected to continue with a 100-percent performance, while Atletico Madrid already has to take the lead after them. We have two city derby and one regional.
The race starts tonight, with three games of which the most important is the Basque derby between Eibar and Real Sociedad. The host is the last in a table with two defeats, while the guest has a win and a draw, but these results do not have much influence, because when playing any derby, all predictions fall into the water, although Sosijedad is a very mild favorite.
Getafe is a clear favorite against Valjadolid tonight, as well as Villarreal against Girona, although last season they were celebrated in the first doubles by guests.
On Saturday, only two duels are waiting for us, as the match between Rayo Vallecana and Athletic Bilbao has been canceled due to poor pitch. Atletico Madrid in the evening will go to the guests of Selti, which will not be easy hosting. Both teams have a win and a draw, although "jorgands" have won the last five matches with Selt, so they are convinced of this victory.
Real Madrid is back on Leganes later on Saturday and this win should not be called into question by Julien Lopetegi's squad.
Sunday starts with the city derby of Levante and Valencia. The home team beat Betis 3-0 in the first round, but was then defeated at home 1: 2 from Selte. Valencia won a point in the first round against Atletico Madrid, and then lost 2-0 to Espanyol. Although Valencia is the favorite on the paper, it should be said that Levante did not win in the championship for seven years, from which one season Levante spent in Segunda should be taken away.
Alaves has no win in the first two rounds and will now try to change it against Espanyol, which has four points from the first two rounds. After that, Barcelona welcomes the newcomer Uesek and there is no question of the winner.
The race ends with the city derby between Betis and Seville. Betisos last season were sixth, but they started poorly this season, because they not only have no win, they have not even scored a goal so far. Sevilla, on the other hand, started the season well, squashed Rayo 4: 1, and then played without goals with Villarreal.
What is even more brave to Seville is that in the last 20 games with his big rival in all competitions, he has won 11 wins and five draws, while Betis has only won four times. Green and white are brave by the fact that last season they were the best team in Sevilla because they played home 2-2 and won 5: 3 in their home away.
Couples of the third round Examples:
Friday:
Getafe - Valladolid
Eibar - Real Sociedad
Villarreal - Girona
Saturday:
Celta - Atletico Madrid
Rayo Vallecano - Athletic Bilbao (postponed)
Real Madrid - Leganes
Sunday:
Levante - Valencia
Alaves - Espanyol
Barcelona - Huesca
Betis - Sevilla