Half of the first leg of the European top league is over. Time to take a look at the performances of the Turkish legionnaires.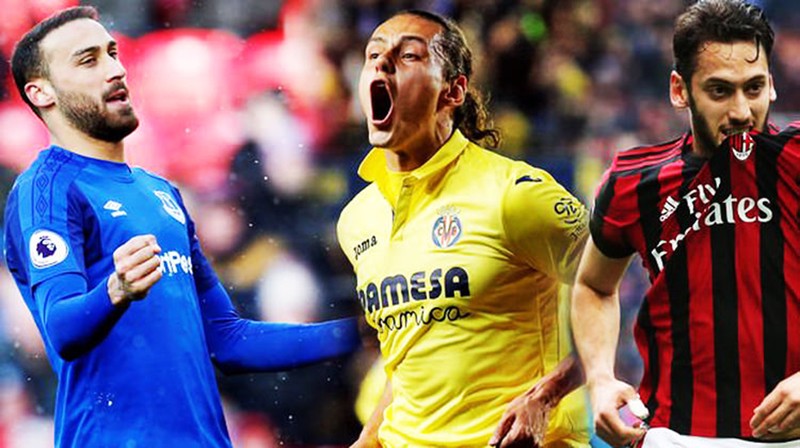 Cengiz Ünder at AS Rome: Ünder has had an excellent season so far and is the top Roma scorer in the Champions League with two goals and two assists after Edin Dzeko. In the league, the 21-year-old scores one goal and assists three goals. In last weeks top match in Naples, Ünder prepared El Shaarawy for an interim 1-0 win. The game ended 1:1 with a draw. The Bavarians Bayern München are supposed to be interested in the wing speedster.
Hakan Calhanoglu at AC Milan: Most of AC Milan's regulars, but they haven't been able to make a name for themselves with goals. Only three assists in ten games are disappointing for a player in his class. Usually used under Gattuso on the right or left outside.
Enes Ünal at Real Valladolid: Still waiting for his breakthrough in the Primera Division. Also with Real Valladolid it does not want to work yet so properly. Ünal scored two goals in eight games. After all, the 21-year-old can count himself part of the regular formation. He will return to FC Villarreal at the end of the season.
Emre Mor at Celta Vigo: After several escapades and suspensions, Mor has made it back into the squad. In the last home game against Eibar (4-0) Mor was even in the starting eleven. In three games so far, however, still without goal participation. He still has a lot to make up for with the Spanish first division team.
Okay Yokuslu at Celta Vigo: As expected, the first year serves Yokuslu to get used to the game. He first had to play a game over the full distance, otherwise the former Trabzonspor actor is a noble reservist. Against Eibar with a 16-minute bet. Players like Lobotka and Beltran are currently no exception.
Emre Colak at Al-Wahda: Seeking his fortune at Al-Wahda Mecca in Saudi Arabia since the start of the season. No surprise that Colak belongs there to the tribal formation. But it has disappeared from the scene of European football. Previous record: One goal in seven games.
Cenk Tosun at FC Everton: It is definitely not yet the year of Cenk Tosun. Has lost his regular place after the 6th matchday and currently serves as a substitute striker. As Joker he already scored twice against Fulham (3:0) and Crystal Palace (2:0). In addition there are two assists. There is still room for improvement for the Turkish national player.
Caglar Söyüncü at Leicester City: The move to England has not yet paid off for the 22-year-old. Language and integration problems have so far prevented Leicester from playing for minutes. Against West Ham United (1:1) last weekend the time had come. Söyüncü was allowed to play alongside Harry Maguire in the central defence, but was then replaced after 80 minutes for tactical reasons. Leicester then managed to equalize. Until then, the Turk had only managed to play three games in the U23.
Sinan Bolat at Royal Antwerp: Bolat has conquered the place between the posts of the Turkish national team. And that with strong performances in Antwerp. It is the undisputed number one among the Belgians and has played all games over the full distance (twelve games, nine goals against, five times to zero). At the age of 30, he is currently experiencing his career climax.
Salih Ucan at FC Empoli: Borrowed from Fenerbahce at the beginning of the season from the Italian first division team. But it doesn't play a big role in Empoli. As a permanent reservist, the 24-year-old has so far managed 39 minutes in two games. He scored his first goal in Serie A against Frosinone Calcio 3-3.