DO YOU KNOW THAT ON THIS SAME DAY IN 2018, PIERRE-EMERICK AUBAMEYANG SIGNED FOR ARSENAL?
Hello I am back again on this my kinda obsession with giving you some of the worlds latest transfer realities. It is the dying minutes now, as we stand in the last day of the January transfer window that has been burstling with activities.
My news desk had reported hot ones like that of Eriksen[https://scorum.com/en-us/football/@ogeewitty/eriksen-is-back] and Martial[https://scorum.com/en-us/football/@ogeewitty/be-the-first-to- know-this-is-scorum] to mention only a few, plus very early reporting on the u-turn for Frank Lampard to Everton[https://scorum.com/en-us/football/@ogeewitty/breaking-news-all-hail-the-people-s-choice].
We bring you news from North London and it is Arsenal most specifically. It has indeed been a genuinely busy month for Arsenal, howbeit it has been about players going out with none coming in till today. Players like Maitland-Niles,Sead Kolasinac,Pablo Mari, Balogun, have all been shipped out, with transfer rumours still surrounding some
One player that obviously has to make news is the Gabonese Pierre-Emerick Aubameyang, who has been their captain, until it was stripped off him some weeks back due to disciplinary issues. He has also been frozen out of the first team since just before the new year and wasn't even allowed to join them in the ongoing warm weather training tour in Dubai. So it has since been clear that the coach no longer wants his highest paid player in the team.
One challenge of a player who gets paid a huge £350,000 per week is finding a club that can match that fee, especially in these times that clubs are still recovering from the Covid financial losses.
But news is in from Spain that, Barcelona a team that is especially suffering financially now is trying to bend over backwards to get the classy striker. As I write,my news desk can authoritatively reveal that Aubameyang has landed Spain today, hoping,just hoping that Barcelona can conjure up a way to press home this deal,a loan ofcourse. Ofcourse Arsenal have since approved the deal.
Reputable top transfer expert Fabrizio Romano reports that a swap deal with Dembele going the opposite direction was the plot, but Dembele refused going to Arsenal. Dembele was in contact with PSG,his preference , and Barca was hoping if that deal pulls through then it frees up funds for Aubameyang to come in, but this time it is PSG who is not following through. Barca has been trying all possible ways to make this deal work, especially with their lean finances.
He goes on to report that to add salt to injury, later today Arsenal made it even more difficult for Aubameyang by firmly informing him that they will not be part of any sharing formula with Barca as per his salary; that Barca has to pay all or else the deal collapses. So it's up to Barca and Aubameyang.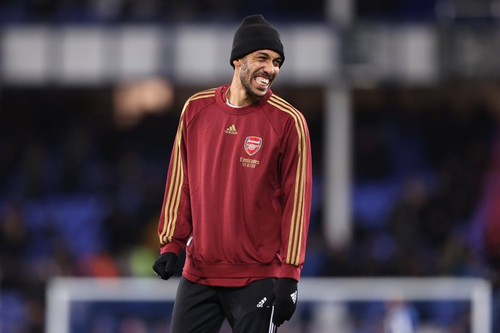 Finally a breakthrough is happening. By whatever means Barcelona are preparing contracts and paperworks for Pierre-Emerick Aubameyang. Infact these are the final stages of the negotiations and the medical is now in place.
I would say I am glad for football with this news.
Cheers