It was a famous victory for Manchester City over Atletico Madrid last week in the first leg of the Quarter finals of the ongoing UEFA Champions league competition. It was the Champions of England versus the Champions of Spain. Any neutral will tell you that it was a well deserved one nil victory for City at home. It was magical play by the substitute Phil Foden as he carved through the left side of the otherwise resolute Atletico defence,on the half-turn beating about 3 players with his quick thinking and close ball control and squaring it up for Kevin De Bryune and the Belgian easily dispatched it beyond the goalkeeper. From then on,City maintained control over the game.
Yet analysing the game more closely unearths some not too popular facts. As a background, in the last few Champions League matches Diego Simeone has more or less discovered the tactics he has been famous for. Well, his tactics is not pleasing to the eye of supporters of the expressive, attacking possession kind of game, but it is not nonsense– it has it's own beauty. Basically it is eleven men behind the ball,compact and systematic in denying the opposition entry towards their goal. But when they get the ball they seem to scatter and pour forward like men on drugs. It's a beautiful and intelligent brand of football for those who love overly defensively minded systems.

The impact of Atletico's style was that it stiffled City completely in the first half and in the second half they took it up to another level, with so much calmness on the ball in deep areas and now threatening to score much more than City. Severally in the first half and early parts of the second half,City looked jaded almost perplexed on what to do with the superior possession they had.

The baffling thing is why Simeone opted to make 3 changes on the hour mark,meaning so early in the second half, when they were even threatening to score City. Off came Marcus Llorente, Antoine Greizmann, Koke and on came Matheus Cunha,Rodrigo De Paul and Ángel Correa. That's one forward(Greizmann)and two midfielders(Koke and Llorente) exiting for two forwards(Cunha and Correa) and one midfielder(De Paul). So on comes a man with great passing ability in De Paul, a Correa who promises pace and goal threat, and the imposing Cunha who is a bag of physicality and his tall height making him a goal threat.

You can see what Simeone was trying to do. Just like I described above, he saw that his team were beginning to threaten more in the second half(not much coming from City except Mahrez and Sterling trying to do something different from the first half), thus he went for the kill with an attacking change. This backfired greatly as the inventiveness in attack they had before the substitutions began to wane,they were by far better off in attack when Greizmann(who missed a good chance) was on the pitch with Koke(who was on a yellow) doing some support.
So now the new attackers were not hurting City and City gradually began to smell blood. Pep Guardiola seemed to have been alerted by the ineffectiveness of the Atletico changes and he made his own trio of changes in the 68th minute. Off came Rihad Mahrez, Raheem Sterling and Gudongan and one came Gabriel Jesus,Phil Foden and Jack Grealish. It was all like for like substitutions and straightaway City had their goal in the 70th minute with a beautifully worked Phil Foden. Summarily the attacking change by Atletico ironically gave City more impetus to attack.
Now here comes my deliberation, here comes my musing. What if Atletico didn't make those heavy changes so early? Someone may retort, "what if Foden started?" On Foden it was clearly stated by Simeone that Atletico were expecting him to start,meaning they were well prepared for him. Infact that's why they made those changes,City wasn't showing as much as Atletico expected, so Simeone felt he can rush in and finish off a suppressed City side. Like has been said, these changes spectacularly backfired.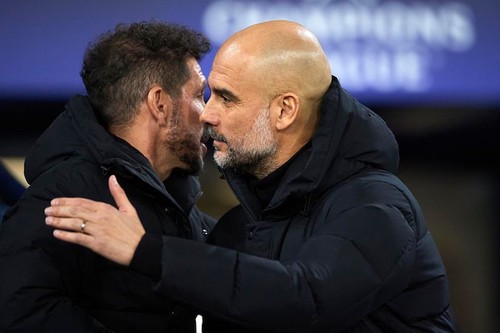 I'm sure a neutral observer can see the road back for Atletico. They clearly know how to stiffle sides like City who play the tiki-taka game–it has been Simeone's stock in trade for several years. So it is a matter of suppressing City once again, don't get into too much haste with the changes and what do you know, Atletico could be celebrating a famous passage into the semi-finals.

There is surely a way back for Atletico, all hope is not lost and it is not even as hard as it initially appeared. The Atletico supporting cast will be hoping their team makes the needed adjustments to perfectly overhaul this tie; infact some will be saying here comes City's end. City must be wary of the formidable Atletico threat.

Cheers