It's a journey into history,a holistic one that is. Today we know of a certain Argentine, Lionel Messi who is widely regarded as the best footballer on the planet and even the greatest ever. He boasts a mind-blowing record, 8 Balon D'or trophies, a serial winner of other trophies in Europe,South America and the world.
It is a well known story how he moved to Barcelona as a kid of 13years and you can see the rest of it in this post.
Our focus is the early years of Messi at Barca, playing in their prestigious academy called La Masia. It's such a hallowed program were only the very best are admitted therein. The "Class of 87" is our focus here because that was Messi's class and some other occurrence we will handle right away. In La Masia history this class is said to stand heads and shoulders above others as they won each and every competition they partook in for at least, five consecutive seasons.They would absolutely "brutalize" opponents, scores like 10-nil were common place against their opponents. Classes are named after the birth year of the players, you would observe in my post above that Messi was born in 1987. Messi's class also housed the classy midfielder Cesc Fabregas and the elegant intelligent defender Gérard Pique. It has been a common understanding that from his La Masia days Messi has been the cynosure of all eyes, with a unique talent that set him apart. When people observe that Messi was called into the senior side at just 17years of age(infact made an unofficial appearance at age 16) and he scored too in same year making him the official youngest ever goal scorer in La Liga history,people assume he was the very best in La Masia.
Or videos like the one above and other reports give indication that the star of the La Masia in Messi's days was Messi himself. However, this claim is not borne out of facts, basically it's a total lie. There was a another kid somewhere, he joined the La Masia at age 11(meaning two years before Messi) and he was so conspicuous that he was the captain of that "Class of 87" set. He was clearly a step above all of his class,he was the prolific goal scorer of the team,the number 9 – infact he could also play left wing, right wing and through the center as an attacking midfielder because he was great with both feet and had incredible pace in his legs. His name is Víctor Vázquez. He was so good that the Class of 87 was named after him, as it was referred to as "The Vázquez Generation". You can see Cesc Fabregas and Pique in the video above, confirming who really was the best.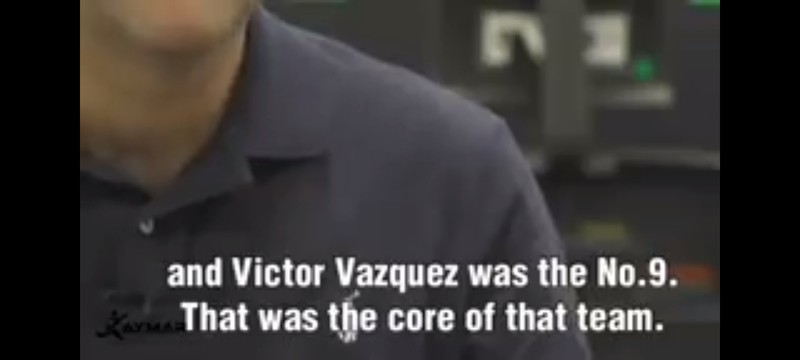 Vázquez was such a magical player to watch,with classy dribbling,control,speed that was even reportedly more than Messi's and he was the freekick taker not Messi– he was indeed the complete package. That is apart from his natural leadership of the team. What happened to him?
It was injuries, that happened. Injuries robbed him of his signature speed, robbed him of game time, such that when people like Fabregas and Pique hit it big and went to Arsenal and Manchester United, respectively or Lionel Messi was promoted to the senior side, Vázquez the brightest light of the class stayed back in Barca junior team. Injuries had robbed him of opportunities to advance to the next level. Once in 2009,still playing for the Barca junior team and quite subdued due to injuries,he injured again and a four months forecast of injury absence turned into 9 months,and he was still feeling pains after these long 9 months.
Finally a Pep Guardiola, who coached in the La Masia and knew him well, was employed by Barça's senior team and Vázquez was called into the team by Pep, in 2010. In December 2010, he played his first Barca match, and it was in the Champions league group stage match,where he came in as a substitute and still scored a goal in that Barca 2 nil victory. Everything seemed on the upward trend at this time, only for Barça to refuse to renew his deal when it expired few months later. It should be noted that Pep Guardiola never supported this decision. That spelled the end of his Barcelona dream,the natural dream of a child,like him,born in Barcelona,as a Catalan native.
However Víctor Vázquez never gave up. In a time like this that disappointments,for players with enormous potentials,that are not of their making, have driven such players into falling apart, turning to drugs and alcohol or getting into criminal acts; Víctor Vázquez stayed grounded and kept working hard. Same 2011 that Barca sent him away, it was the Belgain league that welcomed him. Well not in thesame class as the Spanish, but life must go on. It was Club Brugge he signed for and there he adapted his game to a playmaking role and rejuvenated his career winning a league title and a league cup,scoring 25 goals in 165 appearances. He was named the Belgium footballer of the year, in the 2014/15 season. Yet no bigger clubs came calling and he became somewhat of a journey man playing in Qatar,Mexico and now in the US with the prestigious LA Galaxy, where he is a class above the rest and loved and his commitment unquestionable. Infact few years back in 2017,he played for Toronto FC, this team which also had Giovinco in there, won the league title in 2017 for the first time ever. Vázquez was called "the glue" in that team with they way he holds the team together and gives it the structure it had. That achievement by Toronto FC is called the greatest single MLS season.
It seems a sad story in the beginning, but alas it's also a very motivational. Vázquez will not lie low and give excuses, he kept up with hardwork and perseverance. He kept faith and kept ploughing on the despite the disappointments of life. He isn't where his talent deserves, but he isn't where his talent absolute doesn't deserve either. Somewhere in between he has made news with his brilliance on the ball, he is happy,enjoying himself and with a happy looking family.
There goes the little story of the man Víctor Vázquez.
Cheers