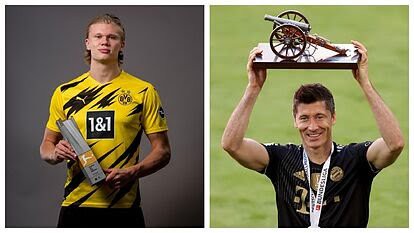 It's confirmed, it's live. Erling Haaland of Borussia Dortmund( left, pic above ) has been named the Bundesliga player of this 2020/21 season.
He's been such a formidable signing by Borussia Dortmund. A man who scored 9 goals in one match in his home country's FIFA Under-20 World-cup match against Honduras,on the 30th May,2019. He also wears the number 9 shirt for Dortmund and he is their striker. This season he has scored 27 Bundesliga goals and 10 Champions league goals(the highest goal scorer). Needless to say,he is the highest goal scorer for his club this season.That's definitely an impressive return from a 19year old,signed by Dortmund only last season.
However there is another story happening in the "enemies camp". It's at their rival club and the most successful club in Germany– Bayern Munich,who won the Bundesliga this season.This is their 30th Bundesliga crown,with Dortmund and Möchengladbach a distant joint second with 5 titles each. Enter another striker,this one much older and has been in the top level football for much longer. He is the mercurial Robert Lewandowski(pic,right ),32yrs,who is a jet bomber of a goal scorer. He has scored a whooping 41 Bundesliga goals for Bayern this season and five in the Champions league. The full gist here is that with these amount of goals he has shattered a Bundesliga record that has stood for more than one and half times his age. So in the 1970/71 season the incontrovertible German legend, Gerard Mueller scored a German record of 40 Bundesliga goals in a single season. That is 49 years ago and this is what Lewandowski has taken down. Super amazing! To most observers this glorious feat should earn him this above award, but the Bundesliga thinks differently, which is quite baffling. How do you not reward such a feat with this award and even much more? He was left with just the award for the highest number of League goals(shown above ).
This is where prognostic check reveals that this award is not decided by astute football technocrats,instead it is left for the German fans alone to decide. What therefore happens is that the fans tend to make a sentimental decision. Bayern Munich is the biggest and most dominant team in Germany and as such most German fans tend to have this dislike for them, especially when Bayern keeps buying anything good they see in Germany. There is hardly any great coach or player they see in Germany that they won't buy,if they think it will improve them. Fans think it is bullying because of their superior financial might. So in principle the fans tend to vote for an opposing side in matters like this, to spite Bayern.
Well Haaland will not bother himself about this and he has tweeted to welcome the award:"An honour to be awarded the Bundesliga Player of the Season. "An achievement not just for me but the whole Borussia Dortmund family. We won this award together!" A mature rendition I must say. I guess that sums him up,he really has the composure far beyond his years on the pitch. Clubs are circling around him,he does have a bright future.
Cheers