It has made news that Ronaldo is back in town– back in Manchester after holidaying in his native,Portugal, and being permitted by the new coach to stay away from the team's camp for pre-season as he requested he had pressing personal issues to deal with.
![untitled.gif](https://media.tenor.com/images/83e58f9c5cfafcda80ac2bf0ed9c8ccb/tenor.gif)
However,since the signing of United's new coach,Erik ten Hag, it seems it was Ronaldo's cue to leaving his beloved Manchester United. His super agent Jorge Mendes has been offering him to various Champions league clubs, all to no avail. Clubs keep rejecting his services from Manchester City to PSG to Barcelona to Bayern to Chelsea and others. He seems stuck and on the other hand United fans are becoming impatient with proceedings. They know he wants to play in the Champions league and it's now looking like he is not loyal to a club who loves him and made him famous and valuable during his early days.
So we often saw news like this,coming through:
Today it has come to the door step of Atletico Madrid and their fans will have none of it:
But why are clubs stalling concerning Cristiano? It's because of what I call "modern football".
Last summer Juventus,under their new acquired coach(and former coach) Massimmilano Allegri were happy to let Ronny go. Allegri was not assuring him of a regular spot in the starting line-up, but was still counting on him. Ofcourse,the competitive Ronny we know couldn't take that and he agreed to go to Manchester City before United gazumped the deal and signed him back. What were Allegri's reasons? Please follow on.
What is happening today is that more teams are buying into what I will call "modern football". The days of indulging a player is more or less over. That is why an Ozil became a liability in Arsenal and in Fernabache
and began to be 'hawked' around,before another Turkish club came to his rescue,this summer.
What I refer to as modern football is that which involves everyone,with no exception, being part of the attacking phase as well as the defensive phase of the game.
The coaches know Ronny is terrific on the ball,but very few are willing to pay the price for what he does without it.
Carlo Ancelloti has since confessed of suffering when using Ronny, it was Di Maria that kept saving the situation,covering up gaps Ronny won't fill when he isn't with the ball.
By the way, I think Di Maria to Juve is such a reward for a player who does a lot of "dirty jobs".
It's a pity wat Ronny is having to go through.
Initially I was questioning his desire to leave United. It looked like jumping ship. I will ask, what's his bother? Is it the Champions league, Lionel Messi? I was saying let pride not tarnish this guy's career.
The so-called famously proud Mourinho is content with coaching a Roma that is a step-down for him. Ancelloti had to stoop low and coach Everton. The coaching world too has changed recently,no jobs like before,younger coaches taking over the scene.
So, reality is that football has changed a lot now. Argentine star Paulo Dybala at the humble pie and joined Roma, eventhough he ought to be playing for a Champions league side. I guess,he reckons that he could help qualify them for the Champions League, the coming season. Why won't Ronaldo think like that,especially as it is a very astute coach United now has and they are making world class signings. I felt it is a certain pride that won't let him stay on at United. Then I began to look closely into Ronny's thought process and I fault his under-estimating what Allegri didn't like about him,however he may very well be right to seek a move away.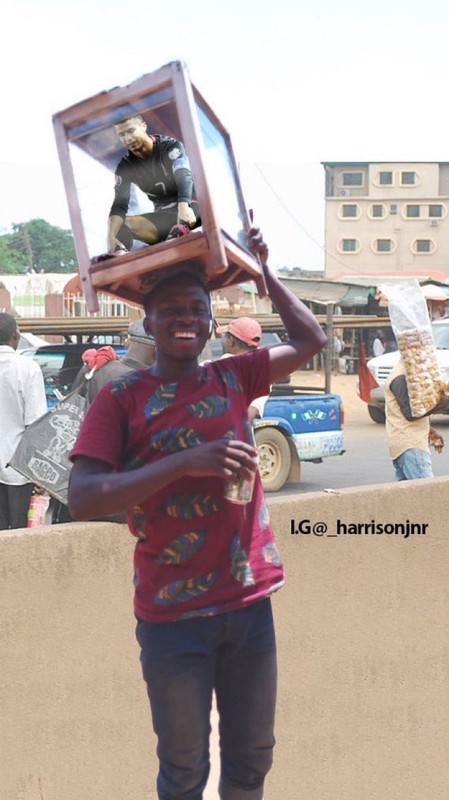 Come to think of it, I don't think it strange that a Ronny playing in Europe, should be thinking of the Balon D'or. Now the great Irish, Gareth Bale or the Brazilian Neymar even, can overlook this title,but Ronny deserves to think in this line,if he wants to. And at his age, he doesn't have much time on his hands to win more Balon D'ors.
Furthermore, he is experienced enough to know what competition counts more– the Champions league, the Worldcup. The Europa Cup(which United will play in) will in no small way hurt his cause, because the mindset of the judges are already set on the Champions league.
So maybe we can cut him some slack here. Perhaps not that he is too big headed to continue with United, but he is constrained for time, not many years to play with AT ALL. One year means a lot at his age. Playing in the Champions league will give him a much better headstart, in the eyes of the Balon D'or judges.
So if one asks me, if Ronny should still be thinking of the World Footballer of the Year trophy, I would reply,why not,he still is as fit as a 27yr old or younger.
It's only painful that "modern football" is holding sway almost everywhere,such that coaches are thinking twice about him.
By the way Ronny's return to Manchester is not to give up and embrace the United course the coming season, but for showdown talks with the club demanding an exit.