He has served Arsenal for over 4years now, a striker by "trade" and once very well respected in Europe. He made his name with Olympic Lyon of France, his home country and he was like a lord in France. It was common consensus that he had outgrown Lyon and he needed to move to a bigger club to cement or prove his class. Just incase he still needs some introduction, his name is Alexandre Lacazette or Laca for short.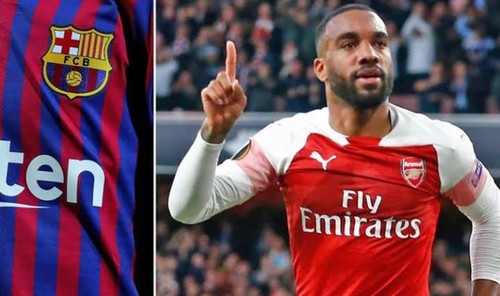 Ofcourse, bigger clubs came calling and it was for Arsenal he signed. Not many faulted this move and it was an absolute pleasure for him to play under another Frenchman, the "Prof" Arsene Wenger. However,it is has been an underwhelming period in his career with him initially not quickly adapting to the style of English football and being the last days of Wenger's reign, Arsenal were no longer the force they once were with many internal problems. Today Laca is not even given the opportunity to play regularly because, he isn't the first choice striker, he however is a great squad player. Today he is like an alien to the French national team – I mean he never gets invited there. I therefore understand with him if he wants to move on for regular football.
It is common knowledge that his contract expires in the summer of next year and he hasn't made the necessary move to renew. This is a strong indication anywhere in football that the player wants out.
Barcelona playing the role of a redeemer of some sort have swooped in an have entered into an agreement(a verbal one) with Lacazzette for his signature. This is according to: https://todofichajes.com/lacazette-sera-el-recambio-de-dembele/.
The Catalan giants are thus front runnerd and are on course to landing the player.
It can be recalled that Barca are trying out a cost-effective transfer blueprint where they snap up good players for free.
The signing of Memphis Depay(and the intention to sign Wijnaldum)is a prime example of it.
Depay has become Barca's jewel today, Lacazette(who I must say is a more well-rounded player today than he was at Lyon) should be able to achieve at least thesame thing.
Cheers