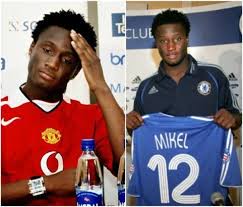 Fresh from from a bullish display in the 2005 U-20 World Cup where the then 18year old was quite frankly, heads and shoulders above any player whatsoever, the world took note and an almighty tussle for his signature ensued. On one end was the legendary Sir Alex Ferguson of Manchester United and on the other was the mercurial Jose Mourinho of Chelsea. The subject here, John Obi Mikel, the Nigerian.
Though it was Fergie that had the headstart,even bringing Mikel to signing a pre-contract with United. Suddenly Chelsea swooped in and began to heavily woo Mikel. It got to a point the owner of the club,Roman Abramovich, housed Mikel in a secret residence for a little over a week(where only a few people knew) all in a bid to convince him to sign. It became even more confusing for Mikel,he said "..Back home in Nigeria, a lot of people were saying I should go to United because of how well they work with young players, whereas Chelsea just bought superstars."
It was such a heated tussle in European and world football that at a point Mikel received a call from FIFA urging him to settle for his own choice quickly. It still took him a quite a while to decide. Hear him say what crucially made him abandon United–."..You know what made my mind up? Chelsea had signed three other players from Nigeria along with me. They were staying with me at the house in London to keep me company. These guys … their lives depended on the decision I was making. If I went to United, they were gone. If I went to Chelsea, they were going to have a career. No matter how long it lasted, that was important to me. Just to give them a chance, you know?

"I chose Chelsea, and four lives changed that day."
This decision,this decision ladies and gentlemen forever changed Mikel and his legacy in football.
At this point,let me give some perspective. In the above mentioned Under 20 World Cup, Mikel played as a number 10,eventhough he wore the jersey number 9,such a brilliant attacking player who ran the show for his team always advancing with the ball into dangerous areas from the midfield and it seemed impossible to dispossess him of the ball as the ball seemed to stick to his very boots. Furthermore, he had this subtle energy to completely shield players away from the ball when it looked like he was trapped.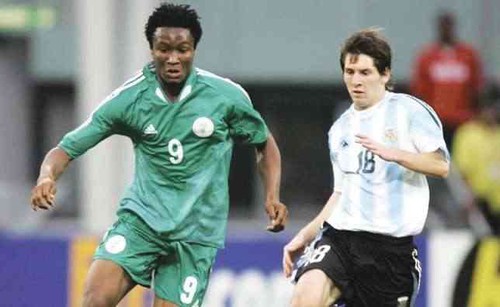 The only person who came close to him then was a certain Lionel Messi the star of Argentina. Argentina pipped Nigeria to the title after Messi won a dubious penalty in the final match and Lionel Messi was also controversially awarded the best player in the tournament followed by Mikel and the third was another Nigerian.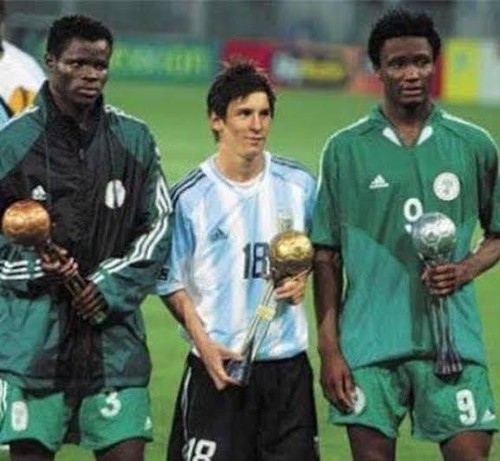 Such was Mikel's dominance in that World cup that neutrals knew this was broad daylight robbery. United took note and made a definite move before Chelsea usurped them,but had to also part £12 million pounds to United and £4million payment to Lyn of Norway(the club Mikel was exiting) as settlement for the mess they caused.
Truth is Manchester United had a void in central midfield to fill,Paul Scholes was waning and the team's style of expansive attacking play suited Mikel more. Now enter Chelsea a defensively minded team ,which he chose just so as to be around friends(and that is also why he was having punctuality problems immediately he joined Chelsea to the extent that he was even left out of the team for a whole month as a punitive measure).Mou bizarrely insisted on converting a Mikel to a defensive midfielder(a number 4). I can imagine Mou was wowed by his close control and strength on the ball.You needed to see how the boy struggled to wrap his head around this new role,committing needless fouls time and time again,getting red cards too.This is a clean player that rarely gets a warning,talkless of a yellow card. Mourinho never gave up on this novel idea for Mikel and well to be fair he finally got a hang of the role, but this was the end of the Mikel that was. A new Mikel was born!
He finally became fondly known as,the catalyst, in Chelsea a name pioneered by club captain John Terry because,like a catalyst, he goes through a match usually unruffled,just doing a simple routine of breaking play and passing the ball back. He was no Ngolo Kante,Casemiro or even Makalele, innovation was prohibited by Mou.So a lot of folks scoffed at his boring football,some mockingly called him a defender, but with time he won over even the scoffers especially as Chelsea won titles, including the prestigious Champions league. People began to appreciate how the simple may even be mysterious.
But with every passing month and year Messi's stock continued to rise higher and higher than Mikel's, until there became no more basis for comparison.
All of his years at Chelsea still witnessed him play regularly at his original role when he played for the Nigerian senior team,the Super Eagles. It was as if Nigeria couldn't recover from the shock of the sudden conversion of their superstar. Truth be told after he signed for Chelsea,Mikel never really played like his old self throughout his time in the number 10 role in the Super Eagles. That tendency to pass back and other viscititudes of his new number 4 life,kept shackling him.
He can console himself that Chelsea respects him,he was only forced to leave Chelsea by the wickedness of Conte,not because of poor performance. Conte was bizarelly angry that Mikel chose to play for his country in the 2016 Olympics whilst he was only just resuming as Chelsea boss and thus punished Mikel for that,not even selecting him among match day squads. It was not a bad outing for Mikel as he captained his side to a bronze medal finish at the Olympics. Mikel was dissapointed with this treatment meted out on him and moved to China to continue his playing career. A shock choice being that he was by then captain of the Super Eagles and Chinese league was a soft league.
Today he plays for Stoke another choice I can't understand, but the deed has already been done. I recall Mou, similar to the Mikel case,was to transform Paul Pogba at United– making him more defensive– but Pogba won't budge, he insisted on being an attack minded midfielder and that tension between both of them unsettled the team and United had to give Mou the sack.
Mikel today will be remembered as an efficient world class number 4 at his prime, but what would have been? Such a contrast in lives,what a constrast in career trajectory and accolade for these two men(Mikel and Messi) today. That choice Mikel made for Chelsea indeed was telling.
Incredible,what a choice can do and what would have been?
Cheers