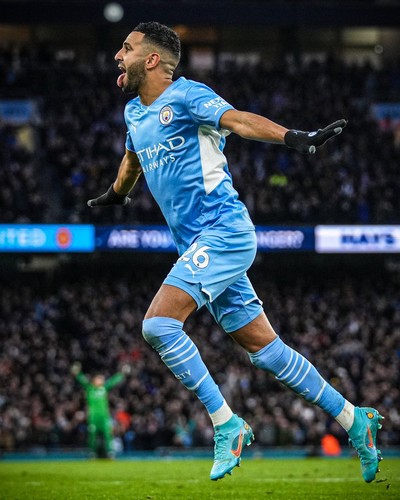 It's pretty clear that Watford and current bottom placed team Norwich are destined for the drop, but what isn't clear is who next– three teams must drop out by the rule of law.
First of all, I like to say that coaching choices will be a painful memory for most of the sides that will eventually be relegated.
Take a look at Watford, just take a look at them. Even when Claudio Ranieri was signed in October, they weren't doing terribly– they had played 7 matches and won 2, losing 4. Okay if for whatever reason the club is so ambitious, why hire a Ranieri? No disrespect to this elder coaching statesman, but he hasn't produced telling results lately(or after guiding Leicester City to win the EPL). Also his brand of football is very defensive, a far departure from the previous more modern project under coach Xisco Munoz, who also guided them into promotion to the EPL last season, and in any case today's EPL teams with great coaches and players all over the place, will not allow such a brand of football gain dominance.
Well Ranieri kept ploughing on,big wins against Everton and Manchester United, but it turned out to be that a lot of losses followed, that his record was 14 matches and 11 losses. Even so, it generally felt like Watford may not be spectacular but they would escape the drop.
Suddenly the trigger happy management decided to fire him in late January and you will be thinking they would bring in a better coach, only for us to see Roy Hodgson arrive on the scene. Another elder statesman and no disrespect to him also. Instantly I knew Watford was in trouble! That he coached Crystal Palace admirably for two seasons, is no qualification to coach Watford in these pressure moments. With what I think the club is trying to do with this choice, they would have been better of signing the experienced Sammy Allardyce and they can go to sleep, knowing that they won't go down. Now they are in an absolute mess.
It was Newcastle in deep waters before the January transfer window because they got a wrong coach in Eddie Howe– one that hasn't got the experience nor pedigree to manage that squad and lift them up to safety. I protested (https://scorum.com/en-us/football/@ogeewitty/what-castle-new-or-old-eyes-but-can-not-see-ears-but-can-not-hear). The club came to his rescue in January and it's a new Newcastle. The improved personnel at Howe's disposal has helped his deficiencies, afterall he was never daft, only he isn't the world class coach a club owned by such a stupendously wealthy owner needs. I would say I can no longer count Newcastle as a club that is going down.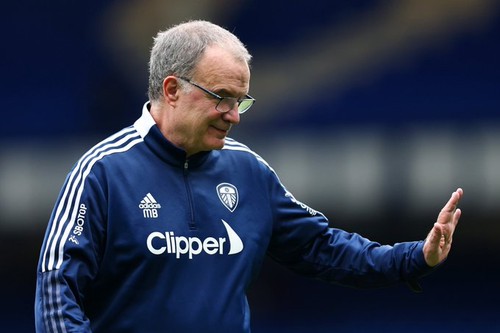 Look at Leeds United, they just sacked Bielsa and brought in a decent coach in the American Jesse Marsch. Yes, it is hurtful the kind of embarassing losses Leeds had of recent. I noticed that the losses were to big sides and it is because Bielsa will ever attack, eventhough his team is short defensively. It means that when big teams counter attack they find it easy to score. However, the feeling under Bielsa was not that of relegation, but not bettering or even equaling last seasons 9th placed finish. We knew that what Bielsa needs is defensive reinforcements in the coming summer and Leeds would be fine. Bringing in a new coach now is risky, especially to coach a team that needs time to unlearn that dissertation kind of thing Bielsa teaches his teams. Kind of like when Carlo Ancelloti took over from Guardiola(Bielsa's protégé) at Bayern Munich,it was tough getting a new way of doing things into their heads and it cost him his job.
As for Burnley, I have always felt,even before the Ranieri sack at Watford, that they were too experienced to drop into the lower league. They have been here before and fought successfully.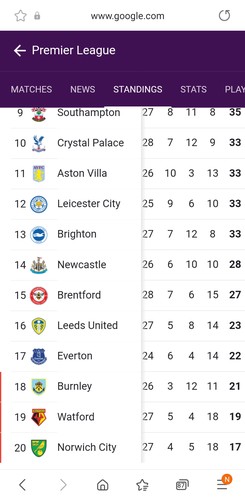 With the table above,it seems tough to pick who is going to be the third team for the drop. The columns in focus here are the first(games played) and last(points). I think it's a straight fight between Everton and Leeds. Frank Lampard who turned down the Crystal Palace job citing worries about player signings, accepted an Everton job that I think is even riskier. He is feeling the heat while Vieira is chilling at Crystal Palace. Everton is now destined for a relegation dog fight.
Looking at all indices, I will pick Leeds United for the drop. I do so because, of the reasons I gave above and because, non-Premier league experience will most likely count against Jesse Marsch. It would be painful to see Leeds go down, but so it would to see Everton go down. Incase someone is asking why I didn't pick Brentford, I'd say they've paid their dues and they have a certain tough mentality about them.
I stick with Leeds United as the third team for the drop.
What say ye?
Cheers