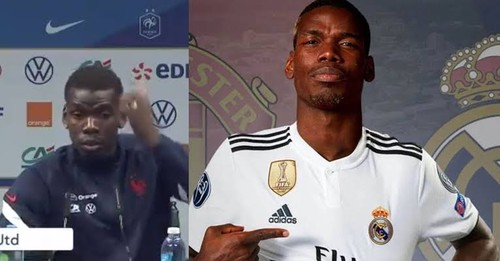 It's sizzling, it's hot, but it's not so surprising for neutrals though, given the back and forth talk of Pogba's contract situation almost throughout this his 5-year stay in Manchester United.
It is well known that Paul Labile Pogba's contract will expire in the coming summer and by rule,that leaves him free to discuss with any club of his choice.
Super agent Mino Raiola, Pogba's agent, is said to be in talks with Real Madrid to his client. Infact the deal is close according to reports from ABC. It says Madrid are will to present to him a deal of up to €14 million($16 million) per season.
In a related news Manchester United is said to be already shopping for Pogba's replacement in fellow Frenchman,Aurelien Tchouameni, who stars for Monaco and the French senior team too. This is as reported by ESPN.
Meanwhile, a host of big clubs such as Real Madrid, Juventus, Chelsea,Manchester City and others are also paying keen interest in Tchouameni, who is terrific for Monaco. He is a 21yr old midfielder, who even Pogba praised recently as being a "man" not a boy and that it gives him pleasure playing alongside him in the French national team.
If you ask me, it's about time Pogba goes to Madrid. I think it will be a crowning point in his career, playing for the very best club in the world. There has also always been the Pogba debacle- please see a previous post.
I wish this deal pulls through and I wish him well.
Up Pogba!