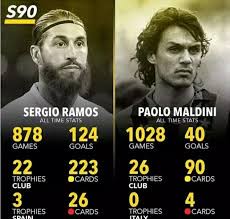 It was a topic for discussion that took almost forever to settle in a SCORUM chat group I belong to less than a week ago. First it seemed like Ramos had the votes, then Maldini seemed to take over, then Ramos again then an impasse...

Alright let me spare you the action commentary-like rendition of things. It was a hot topic in short. A really absorbing contest!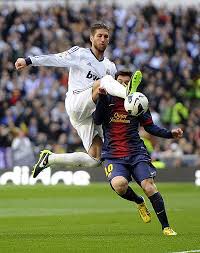 Pro-Ramos guys spoke about his goal scoring prowess(101 goals for Real Madrid),a serial Champions league winner and his ability of improving the performance of his fellow defenders who were not big name players, visa-a-vis giving Maldini a thumbs-down in this regard, saying Milan usually bought well known quality defenders in his days,so he had nothing to significantly add to them. They also said Ramos was the best right back in the world when played there and so it even makes it all the more special that having been converted to a center back he became even a pacesetter in defensive nuance.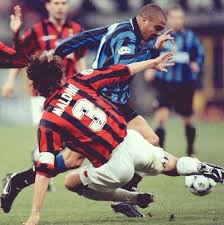 The pro-Maldini guys came in brandishing his record of placing 3rd in the balon d'or twice and placing 2nd once. That he won more trophies than Ramos(5 European cup/Champion's league titles to Ramos' 4 Champion's league titles).They also insisted that since defending is the first thing an Italian is taught, Maldini is a better defender, moreso he was playing in an Italian league that was ranked number one in Europe then,the toughest league,with the best players. In a thumbs-down statement, they say Ramos won't have been able to score as much as he has scored now,if he spent even half his career in a Maldini team.

The turning point in this heated but orderly debate was when the pro-Maldini side surmised that Ramos wouldn't have been as effective if he played against the kind of attackers Maldini tackled. This singular statement settled the issue. I guess most people reading now would be wondering which camp got the advantage at this point.[smile]
Now this opened up a sub-argument that made/makes a whole lot of sense stemming from the fact that football is a team sport and you really can't talk of individual merit without making reference to the whole team. The stage was set and the sub-argument was which players were better– Maldini's era or Ramos' era.
May I therefore now officially introduce the 'contestants' here. On one side,the Italian great, Paulo Cesara Maldini a former professional footballer,born June 26,1968. He played for AC Milan all his career primarily as a left back, captaining the side before retirement. Picture just below.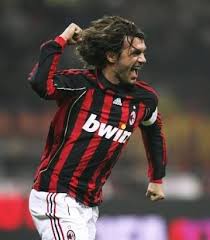 On the other is the Spanish Sergio Ramos born 30th March,1986. He just left Real Madrid this month a club he joined from Sevilla since 2005, becoming joint captain in 2009 and stand-alone captain in 2015. Picture just below.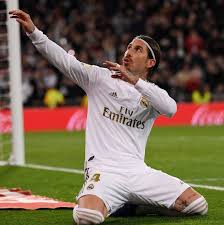 Now back to the turning point. It began with the strikers,as they set out to examine which era had better strikers(goals scored being key). Quickly a representative of the Pro-Maldini camp began to roll out the names:
Ian Rush,Zico,Ruddi Voller,Romario,Gary lineker,Diego Maradona,Careca,Hristo Stoichkov,Marco van basten,Gianluca Vialli,Tulio Maravilha,Glenn Ferguson,Hugo Sanchez,Hans Krankl,Marcelo Salas,Davor Suker,Kluivert,Larsson,Jurgen Klinsmann and several others.
The pro-Ramos guys in quick fashion too,rightly replied that Ibrahimovic, Suarez and Lewandowski outscored most of them and Messi and Ronaldo outscored the ones remaining. Now it was time for the pro-Ramos guys to seal it as they asked for general player comparisons of both eras. A pro-Ramos representative said: "They over hype those days when players aren't as consistent has this days, infact they were not as fit as now.
Am a Man Utd fan... Moyesy got to United, players started complaining of fitness issues from trainings.
Today, we have coaches working more on tactical strength with numerous coaches with crazy technicality."
This particular point right there was the back breaker. The truth is that no other generation of footballers in Europe have been this fit. The technology added to this sport is mind blowing and everything now looks so computerised.
Now hear what a Thiago Alcantara who plies his trade for Liverpool says: "I hate modern football, we see less magic nowadays, players don't dribble as much as before, now it's all about speed and physicality.."
The last line hits it. Players are incredibly fitter these days,so an average player now will be above average if he played in the Maldini era and with better fitness the magic of their days will be dampened somehow.
See what thesame pro-Ramos camp representative added: "Football this days are more technical than what your skills alone can do.
Imagine those days were Madrid's coach had issues with players turnout to training yet they won games with poor fitness.
Era were Delima will go clubbing ahead of a football game."
The winner was therefore obvious. By agreeing to use the premise that a player is part of a whole, such that in examining the impact of a player we should do that with respect to the whole, it was easy to see the side which had a better argument on the whole. Infact the pro-Maldini guys were totally silenced by these last points on fitness,making it easy to say Ramos is better and the best of all time.
Capisce?
It would be recalled that it is something of a shock world over that Ramos has left Madrid this month,after 16 seasons, 22 trophies, 671 games and 101 goals,he being the serving Captain. In all with Madrid he won four UEFA Champions League titles, five Liga and the 2010 FIFA World Cup.
Please in the spirit of good sportsmanship can both 'contestants' give each other a hand shake?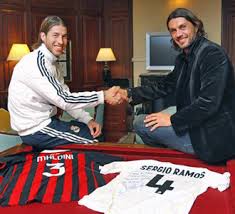 Cheers
all pics Google sourced and post culled from mine- [link](https://peakd.com/hive-101690/@ogeewitty/ramos-or-maldini-who-is-better)