When the sagacious line,"a stitch in time saves nine" where was Manchester United?
Let us not forget that Mr. Ole Gunnar Solksjaer was brought in as an interim arrangement in December 2018, after Monrinho was sacked. His tenure was to expire at the end of the 2018/19 season, but with 8 wins in his first eight matches(infact United won more EPL points than any other club from the time he was appointed to the end of the 2018/19 season), United felt they have stumbled on a diadem and made him their full time manager on a 3-year contract.
The following season they got to the Europa league final which they lost to Villareal on penalties and the finished 2nd in the EPL. This somehow gave the United board impetus to trust him for the next season. The next season United were dumped out of the Champions league in the group stage and in the EPL they struggled to keep pace with the top four; it was after the Corona virus enforced long break that they managed to squeeze into the top 4 and finish 3rd– not because they were that good but because Leicester City who were firmly seated in the Champions league zone for 90% of the season just couldn't find their rythm after the break and it was only few matches left after the break.
This was enough warning to the United board that Solksjaer should go. It wasn't difficult to judge then that he could qualify them for the Champions league and so on, but he is hardly going to win any trophies and this is United a team that should be thinking like Real Madrid or Barcelona. Top coaches were available too,Pochettino was there,Conte was there,even Allegri,Bentley and othere were available at a time during Solksjaer reign but the board strangely dithered on the issue till it became "visible to the blind and audible to the deaf".
Today all those coaches who were available are now gainfully employed. Now it's either the coaches won't leave their current jobs or their employers are not willing to listen to United. What an embarrassment for a super big club world over like Manchester United.
Now reports by goal reveal that United have turned to former Barcelona coach, Ernesto Valverde, since PSG knocked back United's attempt at Pochettino.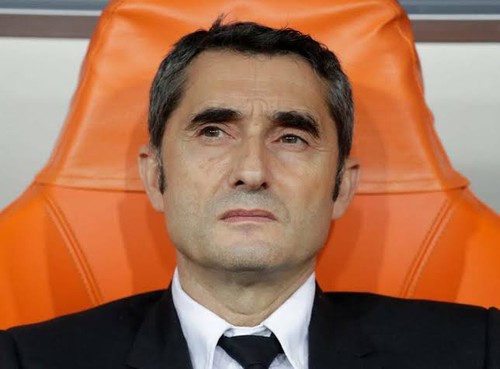 The reports say United have made contact and discussed with Valverde to take over as an interim boss. Valverde is quite an astute manager, though you wonder if the board is thinking about philosophy of playing here. Well I guess it's why they want him on an interim basis,so we watch as things evolve.
INDEED A STITCH IN TIME SAVES NINE.
Cheers