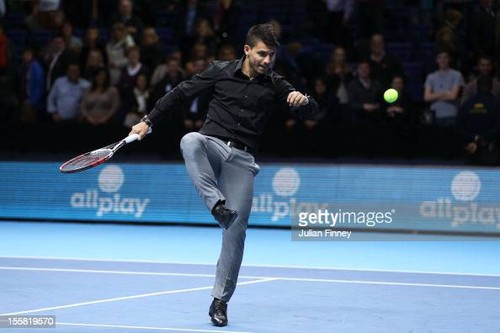 He is going "no where"! Well,can we start from where he is now?He is going no where for now. If he notches eight more goals this season,he makes another record–he moves from fourth to third all time highest scorer for Man City. That's some feat,if it happens!
As a follow-up to my previous write-up,it is no longer news that this great servant of the game of football and sports in general will depart his 10year employement with Manchester City. He also leaves with an enviable record. For one,he is now the undisputed club's record scorer!
The journey ahead is the focus of this post.
We now move on to summer time,where Kun Aguero has to find a new footballing home. An exercise that he's not used to doing owing to the exceptional amount of years he has spent in his current team. Great news he is in demand! He is still hot property. At 32years,he can still command a sound contract by the very best clubs even. Truth is he is not a spent force by any means. Even fitness problems(which some may want to label against him) has not been a plague for him,looking through the years cummulatively.
He's a ripe fruit that must attract eaters. O yes,that is why a Barcelona and PSG are already linked to him. These clubs don't show interest in junks,you know. Barca will want him to truly replace Suarez who left for Athletico Madrid in last summer. But even more than this,it would be a "trap" that should keep their much loved superstar Lionel Messi(who is free to leave this summer) at the club. How? Both are Argentines and friends. Infact since their U-20 days with the Argentine team,they have been roommates till date. It is so important to Barca that Messi stays.
PSG a club gunning for big things won't mind an Aguero. The striking department has a young Moise Kaene doing well,but is on loan from Everton. The other,Maurio Icardi,seems not so trusted by Pochettinno. An Aguero on their books,will also improve their on going case of attracting Messi to the club. An Arsenal may take a punt too. Club captain is low on confidence now and it seems that is his real weakness(his mentality)not goalscoring. In Aguero you have a "beast" in the mental side of things. Even a Juventus may join in, Aguero will be an instant hit there.
What is clear is that Sergio is not thinking of going to clubs,for example in Asia, who will pay him a fortune but where he is not tested to the limit. That's not him for now. It is also refreshing that he can be termed the beautiful bride because he quite frankly won't be short of suitors.
He "Kun" go somewhere really big.
Farewell Kun the Great.