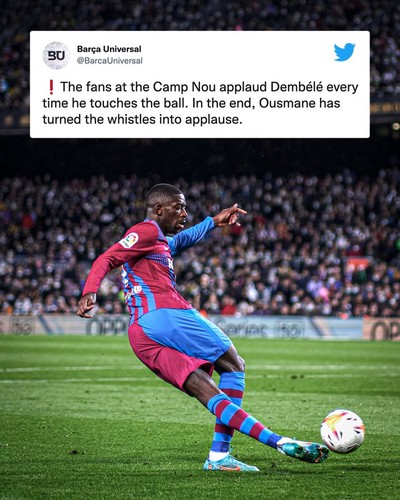 INTRODUCTION
He is Masour Ousmane Dembélé, the 24-year-old French winger. He is such a sensational player, with his speed dribbles and his ability to use both feet better than anyone I know. He absolutely was a genius in the German league with Borussia Dortmund and this attracted a bigger club in Barcelona and they signed him for a record sum, in 2017.
IN BARCELONA
However, the expected high quality performances didn't show forth from him, owing a lot to injury– infact he got an unforced injury on his debut. From then on he was often injured. Health experts had to wonder and research on why he is often injured and some said, it has to do with anxiety, that weight of expectation playing for a super club like Barca after they spent up to $ 175 million bringing him in,a club record for Barcelona. They continued that, this kind of anxiety makes the muscles tense and invites injuries. This could be true, because even in his unveiling below you could see he was making uncharacteristic errors—
When he wasn't injured he was struggling with the Barca system of passing the ball a lot, he loves to be on the ball(a run into to space to receive the ball) and make dribbles on the run. This frustrated Barca fans a lot, drawing disparaging whistles from them.
Better Days
It was only recently– last season– under Ronald Koeman, we began to see Dembele stay out of injury much better. He was still struggling with the Barca system at times, but in some games he showed the old Dembele that is simply unplayable.
Enter the new manager in Xavi Hernández By the time Xavi came in,Barca were in more or less a confused state, Messi had just left due to Barca's cash crunch and Dembele was locked in contract negotiations with Barca, which was not yielding fruits. The club ordered Dembele to leave, since he won't agree to their own terms for a contract; he indeed tried to leave in January but it somehow didn't work out. What next?
Coach Xavi insisted that he needs Dembele, no matter the contract situation and that Barca hierarchy should forgive him, just as per allowing him play. But by January Barca preparing for Dembele's exit brought in the pacy winger, Adama Troare from the EPL club, Wolverhampton Wanderers, he himself a Barca youth player before leaving for England.
Now the competition was tough, Adama often started matches, with Dembele coming in for him in the closing stages. However,since Barca are in multiple competitions Dembele had a chance to start too(with Adama coming in for him later) and that old spark of Dembele began to be noticed. He has started the last two matches at least and is now proving difficult to be benched. His runs,his dribbles, his intelligence and the fact that he is a great goal scorer will wow any coach.
Fresh Air
Finally, he has found a Barca coach in Xavi that understands his style and an old friend in the speed star, Pierre-Emerick Aubameyang the recently acquired super-star striker, a player he formed a telepathic partnership with when he played alongside him in Dortmund, when Dortmund and Dembele were flying. So everything has come together for him. Aubameyang has told his friend, not to leave. Well the contract situation is still at an impasse,so the club expects Dembele to leave.
THE BIG NEWS
News coming into my news desk is that indeed Dembele has found a suitor. Paris Saint-Germain is the club and reports has it that he has already reached a verbal agreement with them. PSG ofcourse will be all over him because Kylian Mbappe is sure to leave for Madrid and they even want Neymar out. The player is free to leave for free this summer when his contract expires, maybe between his friend Aubameyang and his dear coach Xavi, he could change his mind, afterall it's not too late to do so.
Cheers