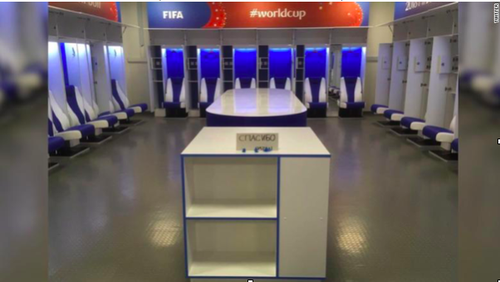 After suffering a devastating loss against Belgium in the knock-out round of the WorldCup, which they first lead by a 2-0 goal margin with just 25 minutes remaining in the second half. Then things turned against them as a shocking 3-2 loss meant Japan was out of the competition and will head home.
Before they filed into the locker room to change, the team respectfully bowed to their opponents.. But before they left, the heartbroken team showed an impressive display of good sportsmanship and even better manners. The players left the room completely spotless and even left a note that said "спасибо" (Russian for "thank you") in their room.
But it wasn't just the team. Japanese fans also did their part, continuing their tradition of tidying up the stands following games.Japan was first praised for their courtesy after their win over Colombia last month. Fans pulled out garbage bags they brought along to pick up the trash around their seats in the Mordovia Arena. Japanese fans were praised for similar actions at the 2014 World Cup in Brazil, where they stayed behind after the game to tidy up.
As they left the stadium, the devastated football fans took the time to clean up all trash in the Rostov-on-Don football arena, leaving virtually no trace of their time there.
The good sportsmanship is another example of how Japan players and fans have earned the admiration of everyone at the games in Russia.Where fans of other teams hit the news for doing things like giving nazi salutes.
Japan's World Cup journey may have come to an end, but the team is leaving a lasting legacy for their actions off the field.