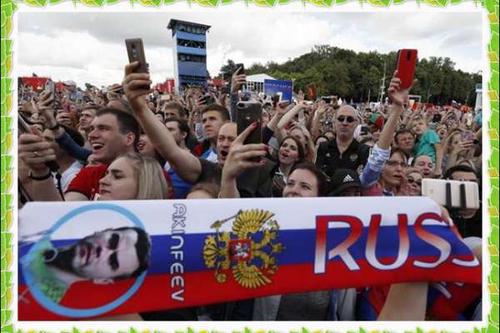 Tens of thousands of football fans gathered in Moscow, Russia on Sunday, to welcome the achievement of the national team to the quarter-finals of the World Cup 2018 before it lost to Croatia.
Despite failing to the semifinals after losing on penalties from Croatia last Saturday, citizens of Russia still boasts of his team players who are able to achieve the big eight despite their FIFA ranking is the lowest among the countries participants of the Cup The world of 2018.
For many supporters, the fact that the home team Russia able to hold Croatia draw, teams with many of the top players in this World Cup, it has been considered a success.
"We came for to support our team and not assume that their outnumbered, " says Kristina Ladygina who were in the zone of fans waiting for the appearance of the player.
"We've won. The most important is they win for us, for the entire country, "said.
Look excited, the players and the coach of team Russia ever appeared on stage, in the middle of the supporters who shout praises his team.
The players ever take pictures with background crowd the supporters, then unfurled banners inscribed with "we play for you ".
"We played with heart and soul, thank you. My colleagues have made history and you are the best, "said Russia captain and goalkeeper Igor Akinfeev.
The Russia ahead of the World Cup often ridicule due to poor appearance record, thus is considered a hero by his achievements.
"It, we want to go further, but unfortunately couldn't. Four more years in Qatar we will be better yet, "says coach Stanislav Cherchesov.