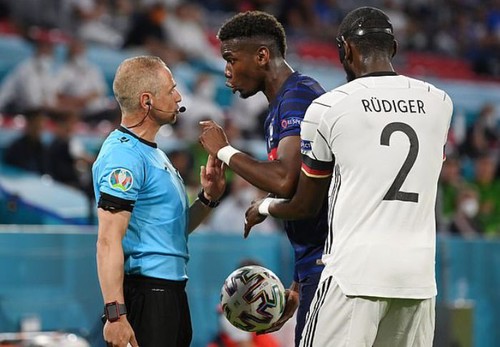 Emerging statements and clips suggest Antonio Rudiger bit Paul Pogba in Germany's opening Euro game against France.
However, in line with that, UEFA has waved off such reports. Insisting the German defender would face no panel.
Details of the incident
Antonio Rudiger seemed to have made contact with his mouth on Pogba's back during both Country's clash in Group F.
Initially, after the incident, Paul Pogba looked to be surprised. Nevertheless, he maintained that Rudiger should face no panel for his actions.
Statements from Anthony Rudiger
In line with reports, Rudiger had some comments to make concerning the incident.
The Chelsea defender admitted that he was not supposed to get his mouth that closes to anyone's back. However, he insisted that he did not bite the Manchester United midfielder.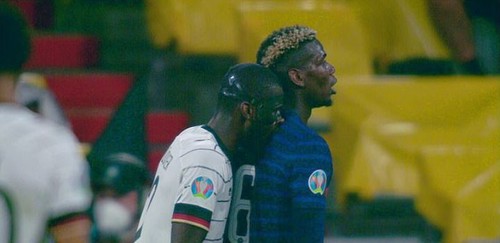 Moving on, Rudiger stated that he and Pogba had discussed the matter. Asserting that they both did not have personal issues.
Reactions from the Referee on the night
Carlos Grande the referee on the night waved off the incident during the game. At the moment, it appeared to be a wrong one. However, Pogba has insisted he was in support of the decision.
Reactions from Paul Pogba
On his part, Pogba claimed that he was not desperate for his opponents to be given cards.
Moving on, he stated that he felt a little twinge from the teeth of Antonio Rudiger. Nevertheless, he insisted he and Rudiger have known themselves too much to make a case out of a scenario of this caliber.
Conclusion
All available information points to the fact that Rudiger's teeth came in contact with the back of Paul Pogba. Nonetheless, it seems that both parties are now at peace with each other.
In line with that, fans and supporters alike would do well to move on and forget about harboring any form of grievance.
Article Writer ✏️ Ordu Daniel