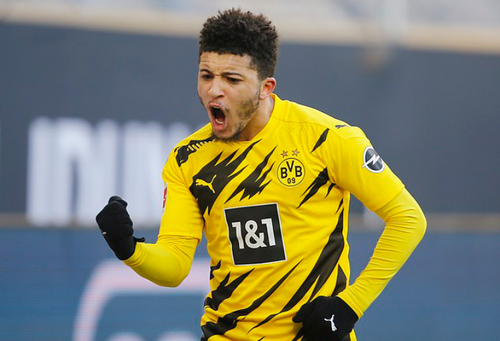 Based on emanating reports, German side Borussia Dortmund has cut down on the asking price for Jadon Sancho.
Using these recent moves as a yardstick, Dortmund may now make the load lighter for teams who had wanted to sign Sancho.
If these reports as to stand, then the English man is to be available for sale at about 75-80 million Euros. A major reduction when compared to the previous 110 million Euros asking price.
Happenings in the Dortmund camp
Dortmund sporting director had initially revealed one of the clubs stars would leave this summer. However, many fans and supporters alike had eyes on striker Erling Haaland as opposed to Jadon Sancho.
Pros and Cons of Sancho's signature
In as much as Dortmund are willing to sell Sancho, the timing of the transfer has to be accurate.
The club has made clear in no uncertain terms that teams interested in his signature, are to bring offers on time.
In line with that, any offer for Jadon Sancho is to be made early. This to enable Dortmund much needed time to find his replacement. No late hour request for Sancho will be attended to.
Teams interested in the English man
A host of teams were beaming with interest for the forward last summer. Most noticeable was that of Manchester United.

Manchester United
United attempted to seal a last-minute purchase for Jadon Sancho. Nonetheless, as was expected, Dortmund paid deaf ears to the offer.
Now with the reduction in his transfer fees, Manchester United have another chance to secure his services.
Liverpool
Liverpool FC also had a measure of interests in Jadon Sancho last summer.
Nonetheless, it does not seem that the Liverpool board is ready to splash such cash on any player this summer. Particularly putting into consideration their Champions League qualification hangs in the balance.
Conclusion
Whatever team can secure Sancho's services, he would no doubt be a valuable asset to them.
However, the current monetary situation in most teams does not look good. In line with that, we keep our fingers crossed, to see the team willing to cough out 80million Euros for his signature.
CLICK THE LINK ABOVE TO FOLLOW ME ON INSTAGRAM