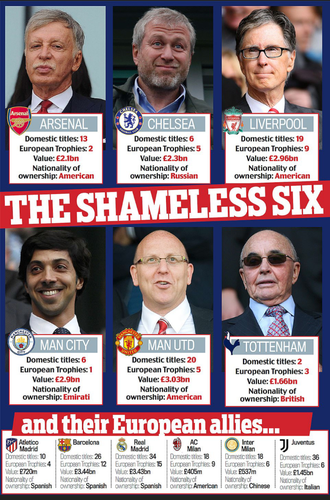 Supporters of a handful of premier league clubs have expressed discontent over their team's initial decision to participate in the European Super League.
Patrons of the premier league big-six, have voiced their dissatisfaction at various intervals. Nonetheless, this article will only be taking a look at the actions of Chelsea supporters alone.
Chelsea Supporters
Fans of premier league side Chelsea FC, camped outside Stamford Bridge, to express their dissatisfaction before the teams game against Brighton.
A good number of Chelsea supporters arrived at the scene with banners of written statements expressing their frustration.
Visible Highlights on the banners
So many write-ups were held up by these fans. However, one was particularly noteworthy. It stated "REST IN PEACE FOOTBALL, 1863-2021". A statement that expressed complete irritation over the formation of the European Super League.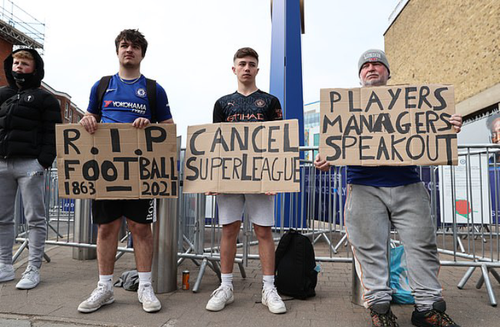 The number of fans presents doubled, sometime before kick-off. Another banner directly called out Chelsea holder, Roman Abramovich urging him to do what was tagged right.
Chants heard by reporters
Asides from the written information on the write-ups, fans present were also heard yelling and chanting.
Among the notable chants were "We need the old Chelsea back", "Do what is right Abramovich" among others.
Fans get addressed by Chelsea legend
The noise from the supporters was so loud that drastic actions had to be taken.
According to reports, Chelsea legend Petr Cech was left awestruck by the actions of the fans. So much that he could not hold back from addressing them.
Current events as they unfold
Evidence abounds, that clubs under the ESL will have a difficult time sticking to what has been agreed as recent statements have proven.
Presently, reports emanating from England suggest that Manchester City has completely backed out from all ESL agendas.
Moving on, the likes of Chelsea, Manchester United, Tottenham and Arsenal have also made positive steps to back out as well.

Conclusion
This present announcement will be to the utmost pleasure of fans. Rightfully so, as they have put in a 100% to make sure the project does not see the light of day.
CLICK THE LINK ABOVE TO FOLLOW ME ON INSTAGRAM