French forward Karim Benzema has kept on firing on all Cylinders for Los Blancos. However, as it was in midweek, his goal was not enough as Real Madrid lost their second game in quick succession.
Benzema was quite brilliant no doubt, nonetheless, his great performances could not stop Real Madrid from falling to their first defeat in La Liga.
Details of the game
On the offensive side of play, Real Madrid kept on asking questions of the Espanyol defence. Leading to Karim Benzema netting his ninth La Liga goal and his tenth of the new season.
However, on the defensive side, the Carlo Ancelotti side left so much to be desired. A loss to Espanyol marked the second time since 2009 that Espanyol would be defeating Los Blancos at the Santiago Bernabeu.
Chances from both sides
In the opening exchanges, Real Madrid performed brilliantly with Vinicius and Karim Benzema combining well for the first shot of the game.
However, Espanyol showed that they were no pushovers as they continuously gave Real Madrid a run for their money. Finally, in the 17 minutes, the goal came for Espanyol courtesy ex-Real Madrid player Raul De Tomas.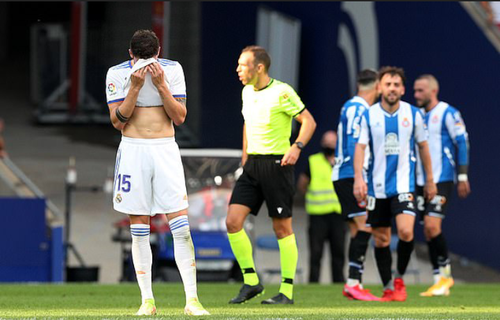 On the 60th minute mark, Real fell further behind and Espanyol led by 2 goals to nothing.
After that, Real Madrid kept creating chances upon chances and finally got the chance to pull one back, after a beautiful combination from Serbian Striker Luka Jovic and Karim Benzema.
After that Los Blancos kept throwing bodies forward but to no avail. Espanyol was able to hold their own and see the game off.
Conclusion
Despite the loss, there were some great positives to take for Real Madrid. They played well and with their performance, they are expected to come back stronger in the upcoming games.
Article Writer ✏️ Ordu Daniel