Vinicius Jr is a 21-year-old Brazilian international who moved from Brazilian side Flamengo to Real Madrid at the age of 18.
Although he has not taken the Spanish league by surprise in his 3year stay at the club, Vinicius is one man who could spark up La Liga in the absence of Lionel Messi

Vinicius Stats last season
The previous season was not the best in terms of goal scoring and assisting stats for Vinicius Jr. The Brazilian managed only 6 goals and 7 assists in his over 40 appearances last season.
With that in mind, Vinicius would no doubt be aware that he desperately needs to improve his performance if he is to be preferred ahead of Eden Hazard on the left flank.
Why Vinicius could be the next thing in La Liga Santander
Despite having a poor conversion ratio in the final third, there are two reasons why Vinicius could still be the next big thing in the absence of Lionel Messi this season.
• Eden Hazard's poor form
One major reason why Vinicius could play a great role in the Real Madrid team this season is due to Eden Hazard's poor form.
Vinicius and Hazard are the two preferred options on the left-hand flank for Real Madrid. Still, when judged by current form, Vinicius is to be placed ahead of Eden Hazard.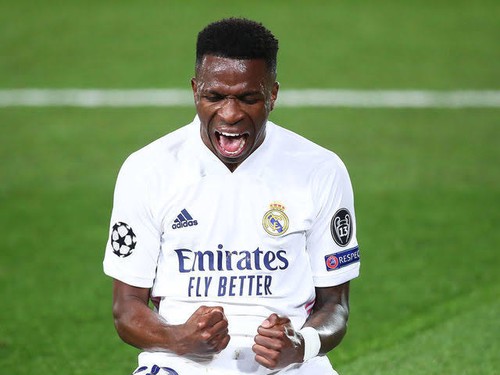 Hazard's performances and constant injuries have left so much to be desired. Leading to a rapid decrease in his actions on the field of play.
• Vinicius's courage
Another reason why Vinicius could be the next big thing is his daring personality. The Brazilian is never afraid to attempt dribbling last someone and he is pacey as well.
Without a doubt, Carlo Ancelotti's tactics rely greatly on the pace of his wingers. That would no doubt give Vinicius the edge above Eden Hazard.
Conclusion
The edge held by Vinicius would in turn give him regular game time and enable him to cement his place as Real Madrid's number 1 preferred option on the left-wing.
Article Writer ✏️ Ordu Daniel