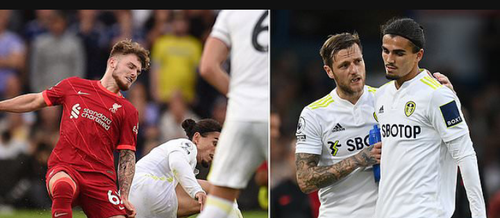 Liverpool left-back Harvey Elliot has taken to his Instagram handle to defend Pascal Struijk after the Leeds defender pulled up a strong tackle on him.
A tackle that saw the Liverpool man limp off with a fractured ankle at some point during the mid-game stages.
Details on Pascal Struijk's tackle
The Leeds defender pulled off the tackle on Harvey Elliot around the 58th minute of the match.
A ball was cleared from the Liverpool penalty area, Harvey Elliot tried to break away with pace in other to start up a counter-attacking move before the strong tackle came in from Pascal Struijk.
Statements from pundits
According to English pundits, from later views of the incident between Harvey Elliot and Pascal Struijk, it was not an intentional tackle from the Leeds defender.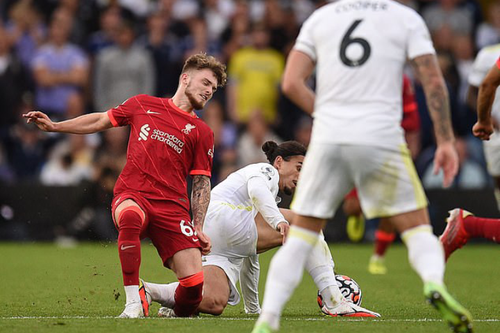 While Harvey Elliot had it in mind to quickly start up a counter-attacking run, Struijk on his part simply wanted to hook the ball away from the legs of the Liverpool teenager.
However, in the process, Pascal Struijk's left leg trapped the legs of Harvey Elliot and led to the teenager twisting his ankle.
Elliot has his say on the incident
After Elliot was stretched off and received needed treatments, he took to his Instagram handle stating that there were no hard feelings between himself and Pascal.
Moving on, the Liverpool man insisted that it was simply a situation of two players who desperately wanted to perform for their teams.
Conclusion
With Harvey Elliot's statement, it is apparent that there still exists a high level of a professional relationship between himself and the Leeds defender.
We can all only hope that Elliot recovers speedily and gets back to top-form.
Article Writer ✏️ Ordu Daniel