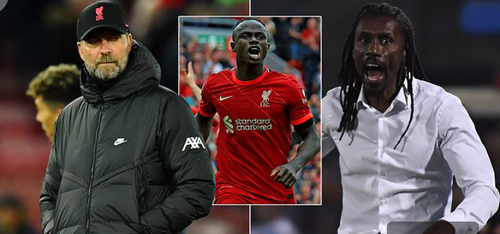 Senegal manager Aliou Cisse has expressed annoyance over statements made by Liverpool manager Jurgen Klopp.
From a recent interview, Jurgen Klopp described the African Cup of Nations as a small tournament. This infuriated the Senegal boss who pointed out that the German owes his Liverpool success to African players.
Jurgen Klopp's statement
In an interview some weeks ago, Jurgen Klopp was asked if he felt excited that there was no more international break until the match. The German replied, that it was a thing of excitement.
Nonetheless, he went on to state that there is going to be a small tournament held in Africa in January. Considering this is the biggest tournament in Africa, Jurgen Klopp's statement has angered many African managers.
Players that could be out of action for Liverpool
At the beginning of the AFCON tournament, players like Mohammed Salah, Sadio Mane, Naby Keita has Joel Matip would be representing their nations in the tournament.
Bearing in mind how instrumental these players have been for Liverpool. It is easy to see why it can be a little bit of concern for the manager Jurgen Klopp.
Conclusion
No doubt, Jurgen Klopp would already be making plans to work things out in the absence of these stars.
It would be interesting to see how things pan out during those trying times.
Article Writer ✏️ Ordu Daniel