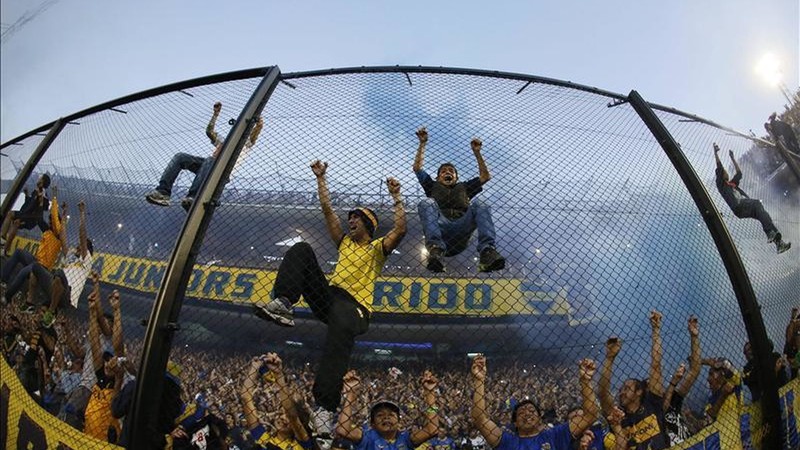 More than 300 people killed. It's Argentina. This is what football doesn't want to see up close, but still draws it. This is what everyone keeps in a reckless silence till it happens. This is what makes stadiums, families or clubs go bust every week in some part of the country, where has been left more blood than ever for the last years. The increased number of such actions is so cruel and real, so aggressive and troublesome for football, authorities and clubs, absolute puppets in the hands of fans from the stands with their hierarchy and social network. The term "barra brava" (isn't used only in Argentina, but in the whole America) was firstly used in 70s by organized fan groups that were supporting some club.
They were meeting, setting up instruments, making lists of recommended meals, fireworks and travelling together to the stadium in a civilized and joyful manner. That was in 80s when the ball stopped being the only cheering thing for the club. Football was intertwined with organized crime, violence and deaths. Today their assumptions represent fear and awe. It defines them in the world. The overwhelming majority of these fans are young people from poor and economically weak districts. They don't have big aspirations in life. They acquired a feeling of belonging to a strong social group, in which violence is denoted as an honour, so it's a part of them that is feed by "prestige". Not only in football, but also in life. "Yes, because under that endurance they have come to solve daily social problems. A barra brava member gets favours for several years. Such as a bed in Penna's Hospital, one of the main public hospitals, facilitated implementation of some procedures in the local CGP (Commission for Certification in Geriatric Pharmacy) or can threaten someone who is disturbing neighbours", journalist Garriga commented.
The most remarkable thing and, of course, depressing is that the reason for it is that these characters reflect their behaviour, decisions and debates. They are suffering from football links in terms of culture. The amount of these victims reached a disastrous number. The clearest example is represented by a victim, Jose Fernandez, known under alias Galician. He was shot in a decisive fight that was an ambush. The one who pulled the trigger was Matias Soto, known as Polish. Both, despite the fact that they followed different barras ideology, were from the same club — Lanus. How can they kill anyone from the same club? Today the clashes between members of barras bravas are perceived as a part of the game and the victims are common. According to Argentinian non-governmental organization Salvemos al Futbol, each year five people die because of the violence in football in the years 2000-2009. For the period from 2010 to 2014 the number is doubled.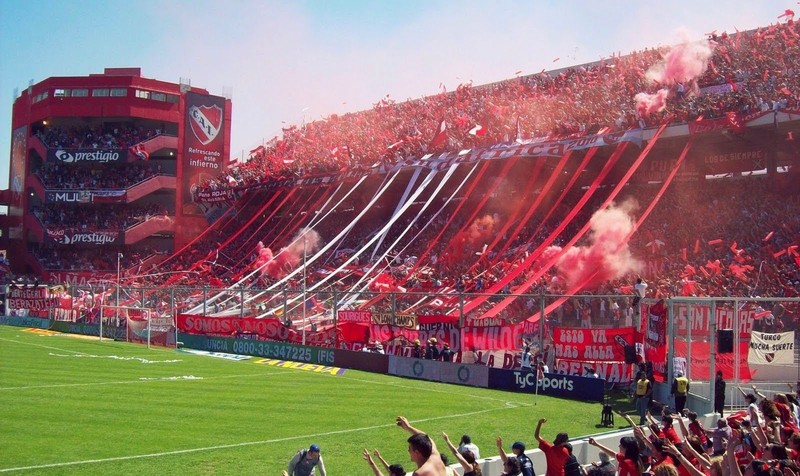 Barras bravas' internal clashes incomprehensibly have left many deaths in this unfortunate list. The feuds of illicit businesses inside or outside the stadiums are aligned with clubs' administration. So it's a bargain when everyone gains. As football industry grew, companies' interests and barras' power also grew. It's said that they have been earning on average 300,000 pesos for a match thanks to these movements: some manoeuvres from reselling tickets, dealing with drugs in the stands, creating points of sales, earning on parking near stadiums to getting small percent of the club's profit from footballers' transfers. Yes, directly from the transfer, as if they were a part of the board, agency or players' family. And everything is for unconditional love to the club and eternal support of the club's values. So it happens in Lanus, Boca, San Lorenzo, Independiente or any other club among hundreds that are scattered all over the country.
Another demonstration of this almost absolute power without any prohibitions and limits, which totally went beyond reality, happened some years ago in River Plate. Perhaps, the most international club in the Argentinian football history (along with Boca Juniors), despite their appalling financial management, is recognized as 'Los Millonarios' in the world. In 2006, when a possibility of getting a big help for the club connected with the bloom of the last big world star, Gonzalo Higuain, was Real Madrid, who offered more than €12m for their forward.
Fraudulent administration, known as "drunkards of the board", who originated from the most aggressive social strata, were criminally prosecuted for this transfer. Those who were in the lead of the most radical fan groups stopped showing off their life of extortion, mafias and barons, living in luxurious villas and running Mercedes, Audi and other companies that produce high-end cars.
The utter culmination of the cruelty before these "new millionaires" was observed during the World Cup in 2010 and 2014, when the barras from an NGO named Hinchadas Unidas Argentinas (HUA was financed by the government of president Cristina Fernandez) were permitted to travel all inclusive only because they were going to support their country. There's no doubt that Argentina would have brought the whole nation to the Brazilian land as if it were the last match in history… Nothing strange. On the other hand, president Cristina Fernandez confessed that she had witnessed the barras several times and commented it: "They stand with a flag. Never watch the match, but always give pep talks. And for that they deserve my respect". An obvious support, a clear impetus and announcement to reassure them. Therefore, when it comes to upholding these values, it doesn't matter who is to blame, whether it's a president, the death of some rival fan, or ,above all, defending the post from inferior militants at any cost.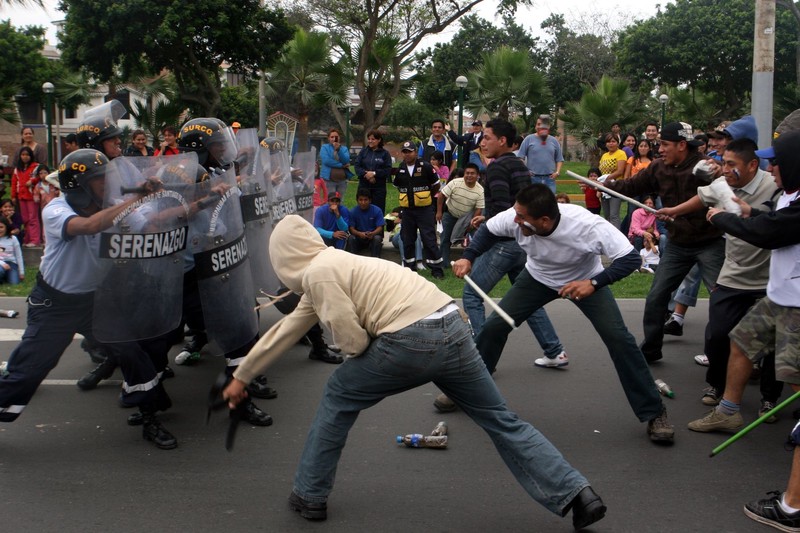 There are many examples. Eduardo Perez belonged to some small club's barra brava, Mitre, which is located in San Pedro. There was another obligation besides playing football, supporting and fighting. Getting a right of being a barra was a question of attending matches unswervingly, playing drums, carrying flags and using their fists against rivals. He said to the Argentinian media that in return he obtained tickets for free and was invited to join on the days of the match, when drinks and marijuana was brought into. And this was happening in a tiny club. In another case, in San Martin, already under police supervision, there were confiscated 170 kilos of cocaine, marijuana, ecstasy, chemical precursors and arms valued at 600,000 dollars. Together with drugs there were also found more than 150 entrance tickets for football matches. A month later, the barra leader along with other 11 people was arrested under suspicion of running a micro-trafficking network of drugs and prostitution.
More incidents. Last year a barra brava leader was arrested under suspicion that he worked for the city's main drug dealing group, Los Monos. The most difficult to understand is that he had already been arrested many times. When he was 14, he was arrested for the first time blamed for involving into a shooting, in which a 3-year-old child was killed: "There are barras bravas members that are connected with drugs trafficking groups", Garriga indicates the problem. Barra brava ex-member Perez said that many barras don't really care about the matches: "They start as an organization for obtaining and reinforcing support, but they end turning into a criminal group who don't have anything in common with the club and bear the club's name in vain. Finally they aren't even interested in what is going on in the club, but only in the amount of money they can earn", he summarized.
The limit is more than exceeded. One of these social frustrations under the pretext of football was alive during several years because of Pablo "Bebote" Alvarez, Independiente barra brava's ex-leader, and Javier Cantero, club's president. An aggressive, intimidating barra was able to threaten to kill him on TV live, because Cantero had been one of the few to declare the war on the barras on the Argentinian stadiums. But the major impact on sport, the major disgust that these characters cause, has been made in a small-scale football.
Franco Nieto, Tiro Federal captain, was a footballer. Yeah, one of those, who needs support. Yeah, one of those whom you want to see winning. Franco got a stone throw at his head when he was leaving San Francisco stadium in La Rioja province (1,300 kilometres to the northeast of Buenos Aires). His club happened to play against Chacarita and because of the problems, caused by expulsion of one of the visitors, between both teams' players, the clash started several minutes before the end of the match.
Nieto was getting into his car on the parking lot, but some Chacarita fans hit him first and then kicked him lying on the floor. He ended up fatally injured because the fans threw stones at him. He was brought to the hospital badly wounded by his club's supporters. Despite a complicated surgery, he remained in a vegetative state. Eventually he died. The reason for the player's death wasn't a heart attack, passing out or the stone throw during the game. No, rival fans killed him. A direct message to football heart. Football fans and the value they share, killing vital protagonists of the game, don't represent football.
Click here to read other parts: Part 1
Source: El Enganche