Hello everyone! Welcome back to another beautiful and sport educating post from @Oxygen02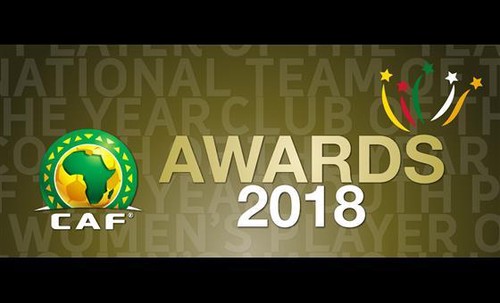 Yesterday, the Confederation of African Football releases the name of the 10 men Africa footballer who will be contesting for the African footballer of the year. The list comprises of players playing both at home and abroad for different clubs. Even though this list will still be reduce to a 3 players.
This players, in one way or the other got recognition due to their performance for their countries and respective clubs in the 2018 football calendar. It is not something that come cheap, it doesn't come easy like that, to be on the list you have to work very harder because there are millions of players out there.
Mohammed Salah of Egypt who also plays for Liverpool FC is one of the big name on the list and a strong contender for the prestige award because 2018 has been a success in his playing career. Maybe BBC just hinted us on who really deserve this award after naming Mohammed Salah their own African Footballer of the year but we have seen cases where by BBC name their own player and CAF didn't go with BBC opinion in the best player. A typical example is Austin Jay Jay Okocha which many people believe to be the most skillful player in the Africa continent and among the biggest names in the world who won the BBC African footballer of the year but didn't taste the CAF award throughout his playing career. Same thing goes to John Mikel Obi when he won the nations cup and UEFA champions league with Chelsea football club and later lost the award to Yaya Toure of Ivory Coast.
The 2018 CAF award edition will come up on Tuesday, 8 January 2019 in Dakar, Senegal where Coaches and Captains of the 54 members, CAF Media Experts, Coaches of the quarter-finalists of the CAF Champions League and CAF Confederation Cup, legends will all be on ground to vote for their favorite player.
Here is the list of the 10 players who will be fighting for the award even though some big names are out of the list already, player like Armed Musa was on the list before dropping out but one Nigeria player made it to this level. Let's briefly take a look at the list ;
1. Alex Iwobi
Alex Iwobi plays in the Nigeria national team and Arsenal Football Club of England.
2. Andre Onana
Andre Onana plays for Cameroon and Ajax Football Club of Netherland.
3. Anis Badri
Anis Badri is one of the home base player who plays for Tunisia and Esperance Football Club.
4. Denis Onyango
Another home base player on the list is Denis Onyango of Uganda national team who plays for Mamelodi Sundowns of South Africa.
5. Mehdi Benatia
Mehdi Benatia is a player of Juventus Football Club and Morocco national team.
6. Mohamed Salah
Mohammed Salah plays for Liverpool FC and Egyptian national team.
7. Pierre-Emerick Aubameyang
Aubameyang is an Arsenal man from Gabon national team.
8. Riyad Mahrez
Another big name on the list is Riyad Mahrez who plays for Manchester City and Algeria national team.
9. Sadio Mane
Sadio Mane is another Liverpool player who play for Senegal national team.
10. Walid Soliman
Another Egyptian home base player who plays for Ahly Football Club.
If there is any player am tipping to win this award, it should be Mohammed Salah of Egypt and Liverpool Football Club who had a successful 2018 in his football career after winning the EPL golden boot award with 32 goals and helping Liverpool to the UEFA champions league final. He also qualifies the Egyptian national team for the world cup in Russia.
Who do you think really deserve the award come January 8, 2019?
I hope you find this post interesting and educating. Until then, I remain my humble self @Oxygen02. Thanks For Reading👍