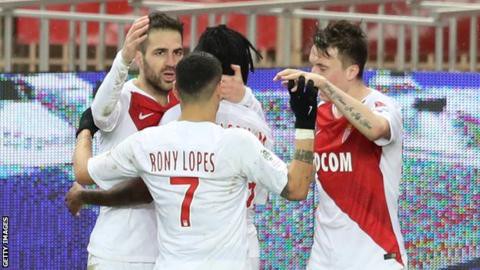 Cesc Fabregas secured the maximum point for AS Monaco as he took advantage of a loose ball in the 62 minutes. Fabregas joined Monaco from Chelsea during the January transfer and signed a three and half year contract with the French club. Things has not been really working well with Monaco this season as the former champion is battling with relegation. Currently now, they occupied the number 18th position, same poi t with Caen who occupied the 17th position with 18 points.
Monaco was at home to Toulouse who is currently on 14th position with 26 points, Golovin put the home team ahead in 15 minutes of the game after receiving a pass from Martins which he finished well but that is not really enough as the visitor reacted back through Jullien who guided the ball into the net with his head in 20 minutes of the game.
Monaco who just departed with Thierry Henry replaced him with Leonardo Jardim the man who won the ligue 1 with them some years back before been sacked in an attempt to reform the team. That seems to be right as Monaco controlled the game with 51% to 49% on ball possession. Monaco continued to press high with 13 shots with just 3 on target.
Fabregas who failed to make it through to Sarri team had to look for a team where he can get enough playing time joined Monaco on a three and half year deal was the man who rescued the 3 points for Leonardo Jardim men. If there is one thing I love about Fabregas, is the fact that he can move the ball forward very well and is always there to help the team when they are in need of goal. Fabregas can help Monaco out of relegation with his scoring accuracy and passing skills.
================================================================================================================================================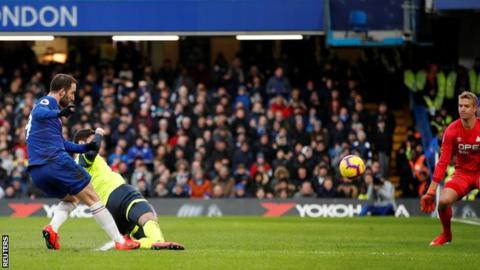 Higuain star for Chelsea as the defeated Huddersfield 5-0 at Stamford bridge, Chelsea was shocked by Bournemouth in the midweek as they were defeated by 4-0 and Sarri was left embarrassed to the extent that he had to locked the players up for 50 minutes in the dressing room just to make things right. Higuain started the match against Bournemouth and wasn't a good start for the Argentina man as he failed to register a shot in the first 45 minutes which make every fans to think he is just a second version of Morata.
Chelsea hosted Huddersfield in a must win match for Maurizio Sarri and his boys just to clean the mess Bournemouth put on them and it was really a good outing for the Londoners as they responded well to their last defeat as they trashed, disgraced, embarrassed Huddersfield 5-0 at the bridge. Higuain scored in 16 minutes to put the team ahead after receiving a pass from Ngolo Kante, Hazard double the lead from a penalty spot after Cesar Azpilicueta has been fouled in the box by Elias Kachunga some minutes to end the first half.
Chelsea returned to the match in the second half with lot of attempts before Hazard completed his brace in 66 minutes after dribbling Jonas Lossl to make it 3-0 for the home team. Higuain also completed his brace in the 69 minutes after Ngolo Kante cooled the ball for him to shot from outside the box and he curled the ball very well to make it 4-0 before David Luiz score to make it 5-0 in 86 minutes after Kachunga.deflected his powerful headed into his own net.
The combination of Morata and Giroud this season is nothing to write home about and reason why the club has go out to bring Higuain. He made his debut against Bournemouth and wasn't a good one but he really prove to everyone why he is still a prolific striker even at the age of 31by scoring two beautiful stunner in his second game.
Chelsea actually did what they needed to do against Huddersfield as they had 23 shots in that match which is very strange to SarriBall tactics this season. Higuain has now scored 38 league goals for Sarri in 37 league matches.
Do you think Higuain will score up to 10 goals in the league for Chelsea?
I hope you find this post interesting and educating, until then, I remain my humble self @Oxygen02. Thanks For Reading👍