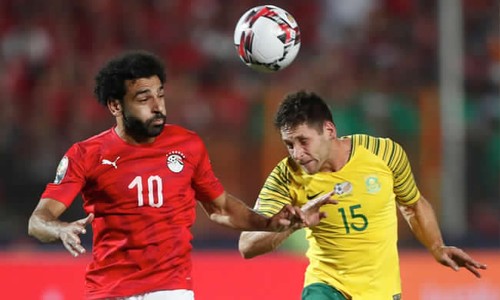 it was really a moan day for the host country of the ongoing AFCON competition Egypt last week when they take on the Bafana Bafana of South Africa. It was really a shock and no one really expect it as the host country crashed out in a painful manner after losing 0-1 to South Africa.
As far as the AFCON competition is concern, Egypt happens to be one of the title contenders and this really show in their group campaign before losing to South Africa in the round of 16. Neither South Africa also see it coming against the host country in this particular encounter because it was really a cracker from the beginning to the final minute before Thembinkosi Lorch decided the game in the 85 minutes which left the host country heartbroken.
Egypt had a control of the game start from the kick off to the final whistle with lots of possession with 62% to 38% while the Bafana Bafana just sit title at their own half with solid defense, stopping the attacking force of the likes of Liverpool hit-man Mohamed Salah and Mahmoud Trezeguet.
South Africa coach Stuart Baxter really got it right by not allowing his team to play much of attacking game as he believe the best way to attack is to defend against high Egyptian team. In the history of the AFCON competition, Egypt remain the strongest team and in this year edition, they really pressed high which allows South Africa to play on a counter attack.
Mahmoud Trezeguet had a best chance to score for Egypt but was well saved by Razek El-Shenawy. Despite all the possession, South Africa created more chance than Egypt with 3-6 on shot on target and in the 85 minutes, Lebo Mothiba assisted Lorch who fired a shot from the center of the box to the bottom corner of the post.
It was a moan evening at the Cairo International Stadium with lots of Egyptian fans on ground watching their country crashing out of the competition while Bafana Bafana did everything well to sealed the victory.
My Words For Egypt
I know it is not easy to lost at this stage of the competition after a good display in the group stage but i can assure you better days ahead. Remember what Jennifer Young says that;
Pause and remember nothing lasts forever. Better days are coming, but they will come faster with faith.
Better days will only come faster with faith which you hve to accept and prepare ahead for the next edition.
This is my entry for the moan day contest organized by @Pete to9 support new and existing users, you too can also participate in the contest by following this link.
I hope you find this post interesting and educating, until then, i remin my humble self @oxygen02. Thanks For Reading👍🏽