Many at times, we don't deserve what life has to offer us, but we only have two choices to make, it is either we accept it or we change it. Hello everyone, this is my entry into the happy moan day contest organized by @pete, you too can also participate in the contest by following this link.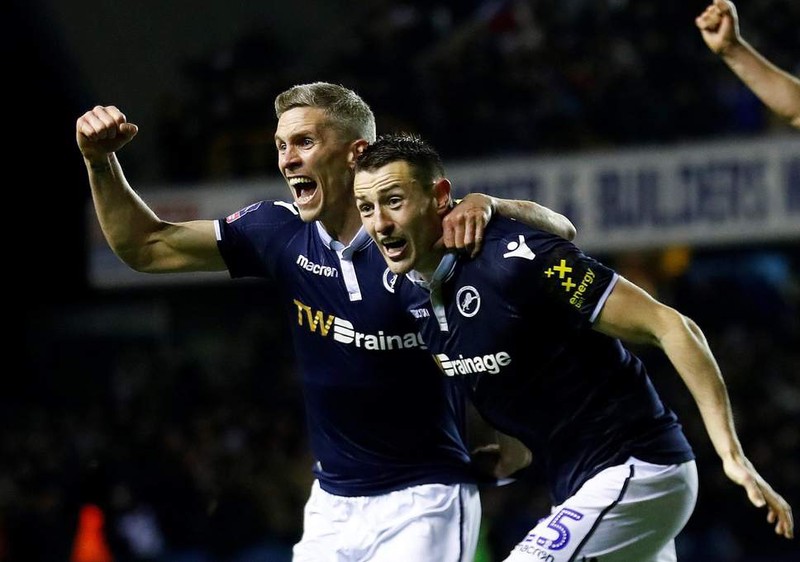 It is Everton up against Millwall in the FA cup 4th round at the Den stadium, home of Millwall and the final scoreline wasn't a good result for the toffees as Millwall thrashed, disgraced, embarrassed them 3-2 at home.
Marco Silva was shocked because he never see the defeat coming as he made two changes to the team that was defeated by Southampton by introducing Yerry Mina and Dominic Calvert-Lewin in his lineup while Millwall head coach made three changes in his team. I was also shocked just like Marco Silva because I will never have stake my money on Millwall who is currently on the 19th position in the championship to win against team like Everton any day.

Millwall started the game very well with some good play as the team had the chance to lead in just 8 minutes into the game through Cooper but failed to convert it. Everton on the other side saw their own effort through Digne been cleared off by Hutchinson.
Everton effort yielded a good result in the 43 minutes of the game when Richarlison shot beat Archer in the goal post to make it 0-1 but that is not enough to kill the zeal of Millwall as they responded well to the goal with an equalizer in the additional minutes of the first half through Gregory and the match ended 1-1 before the break.
The atmosphere was not really a conducive one as the intensity of the game dropped a little bit, the weather was not a favorable one with heavy rain and that limit the play to the midfield alone and Millwall continue to show Everton reason why they are been refers to as "Lions" and make Everton look like someone who fell into the Den. Both teams continue to show their tactics and Everton substitute Cenk Tosun scored in 72 minutes after a brilliant pass from Sigurdsson and that changed the scoreline to 1-2 and Millwall reacted back as if they are waiting for Everton to score first as they equalized back from a controversial goal from Cooper in 75 minutes just 3 minutes interval between Cenk Tosun goal.
Ferguson's had a shot blocked by Pickford and cooper was there to converted it with his arm and in the absence of Video Assistant Referee(VAR), the center referee awarded the goal after consulting one of his assistant referee. Everton failed to control the game and Millwall took that advantage as wallace make it three 3-2 for the Lion's in the additional 4 minutes and the whole stadium looked like a volcanic eruption with the fan celebration.

This season, Millwall has managed just 7 wins in 28 matches, losing 13 and draw just 8 with 29 points in the championship and they occupied the 19th position while Everton in the premier league occupied 8th position 33 points after winning 9 matches in 24 matches, losing 9 with 6 draws. The that is very similar to Millwall according to stat in the premier league is Brighton with 26 points, though it is not the first time of seeing something like this, for a team in the championship defeating a premier league team. This match is even the 5th time in a row for premier league club losing at the Den stadium.
Everton used to be a club I respected so much as far as premier league is concern because this club will give you a run for your money. Then, I used to rate them with Tottenham Hotspur but l was so amazed to see the speed at which they have dropped behind Tottenham. Marco Silva is not getting it right at all with the set of players he is having, Richarlison happens to be one of the too scorer in the league before been overtake.
The result of this game literarily is telling Everton fans out there that they will go another season without any trophy which doesn't speak well for a team that has the likes of Richarlison, Cenk Tosun, Theo Walcott, Sigurdsson, Coleman and other star players. Everton in the game could only managed just two shots on target which resulted to their goals and also failed to hold their breathe to the last minute as Millwall scored two of their goals in the additional minutes of both half.
My Word Of Wisdom For Everton
Everton should stop doubting about how far they can go, instead they should remember how far they have come and build on it. Life can make us scream, cry but we should never give up on life. Just like I said that it is either we accept or change life offers, Everton need to do everything possible to change theirs. Defeat will come but we don't have to accept it rather we should strive hard to change it for good.
I hope you find this post interesting and educating, until then, I remain my humble self @Oxygen02. Thanks For Reading👍