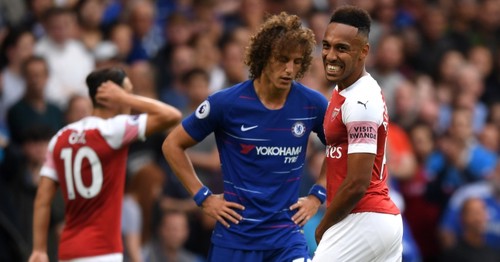 It was not really a good outing for Sarri team last weekend as they fell under Arsenal style of play. A match that left a scar on many Chelsea fans out there which I happen to be one, I heard many people saying after the match that Sarri is just the second version of Arsene Wenger who at the end will not bring any glory to Stamford bridge in terms of trophy.
Arsenal welcome Chelsea back to emirates stadium in a must win match if they still want to keep there hope of top 4 alive and the team did everything they needed to do to cut the gap as A Lacazette and L Koscielny secured the maximum point for the home team.
A Lacazette opened the scoring for Arsenal in the 14 minutes of the game with a powerful strike and the visitor responded well as Pedro effort was wasted. Arsenal got there second goal before the break through Koscielny in the 39 minutes before the break in what seems to be his first goal in the past 11 months.
Marcus Alonso had the chance to bring Chelsea back to the game before the break as his effort too also hit the woodwork. Chelsea were just unlucky as they created many chances to deny Arsenal the maximum point, all efforts been off target. Hazard was deployed to the attacking position as false 9 and Giroud had to watch from the bench until the final 30 minutes when he was introduced along side Ross Barkley with the hope of changing the game.
What can be the problem to Chelsea who had a good start compared to Unai Emery side that had a slow start? Chelsea major problem this season has been the problem of hit man upfront, none of their strikers can be trusted for a big match and that has saw Eden Hazard been trusted for that role. Willian this days play like someone who is emotionally disturbed and I don't think the club have any psychologist to deal with that, Pedro has been the only man rescuing some points for the blues this season and age is not on his side unlike before.
What I noticed in the match between Arsenal against Chelsea is the fact that Chelsea lack a young and talented player like Tammy Abraham upfront, and Hudson-Odoi is not well trusted by the coach. This are guys that will have flourished well if they happens to be in Arsenal team.
Chelsea has lost their respect and their traditional style of play that allow a long range shot and that is why you see the likes of Frank Lampard, Ballack, Makelele, Essien scoring freely from the midfield. The only player I see in this Sarri team that can score freely from outside the box is Ross Barkley because you can see that zeal in him but the SarriBall tactics will never allow him to do that.
Chelsea first shot on target came in the 82 minutes through Marcus Alonso which shows that the team is just playing the ball around with no attempt on goal. Same Arsenal defense that was destabilized by Liverpool FC kept Chelsea attackers in their pocket until 82 minutes before having their first shot on target.
The only area I think Arsenal is better than Chelsea this season is the attacking role because Lacazette and Aubameyang are doing pretty well upfront for Arsenal this season compared to Morata and Giroud. In fact only Aubameyang has scored as many as more premier league London derby than Lacazette this season which show they have both been consistent for their club.
Maurizio Sarri after the match was really angry because he think the only reason why his Chelsea team lost the match was due to their mental approach to the game. He says and I quote;
We had a similar issue in the league game at Tottenham. We spoke a great deal about that particular loss and our approach at the time. I spoke to the players, I thought that we had managed to overcome the issue. It seems to me that we have an issue with having a sufficient amount of determination and being mentally solid. I'm not happy at all because I prefer to come into the press room and into the changing room to talk about the tactics and why we lost from a strategy point of view, but the fact of the matter is that it would appear that this group of players is extremely difficult to motivate.
From the manager statement, it is very obvious that he was raising finger of accusation at the players mentality and how can he just concluded that he think they have managed to overcome the problem even when most of their winnings after the Tottenham match has been through either a narrow win or a lose.
Chelsea results in their last 7 away matches in the London derby is nothing to write about as they have only manage a win and that was against crystal Palace in the month of december, the have lost four of the seven matches and draw just two.
My Word Of Encouragement
Richard M. Nixon say something worth of quotation;
You must never be satisfied with losing. You must get angry, terribly angry, about losing. But the mark of the good loser is that he takes his anger out on himself and not his victorious opponents or on his teammates.
The whole team need to know that the league is not over until it is over and there is still room for improvement if they want to finish in the top 4 this season, they need to have what Richard Nixon said at the back of their mhere The team need to hold the conviction that their existence in the league hold a purpose. Many times we fail in life is not for any reason but for us to appreciate every success that comes our way.
This is my entry for the happy moan day organized by @pete and you can also join the contest here

I hope you find this post interesting and educating, until then, I remain my humble self @Oxygen02. Thanks For Reading👍