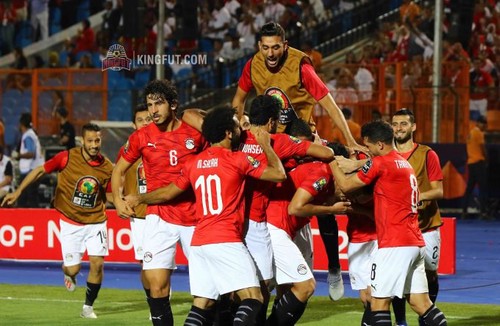 The AFCON tournament kicked off yesterday as the host country and Zimbabwe opened the floor at the Cairo international stadium. The tempo was so high yesterday with almost 70,000 spectators on ground to watch the opening game. Egypt really show a great approach towards the game in the opening minutes of the game but Zimbabwe goalkeeper Edmore Sibanda was the hero in the early minutes by providing two wonderful saves which would had put Egypt ahead.
El Said and Salah tested the Zimbabwe goalkeeper on many occasions, Salah first chance came in the 17th minutes when he manage to play the ball through a tight angle before going off target. All eyes was on the Liverpool man yesterday and he is one the those player Egypt is really looking up to as far as this year AFCON tournament is concern.
Zimbabwe also had a chance through a free kick that hitted the defense line only for Mohamed El Shennawi to rush out to denied them the chance. Both teams started playing according to instruction but Egypt was dominating the game on every angle until Trezequet finally break the silent in the 41 minutes for the host country.
He received the ball in the box and shake the defense of the Zimbabwe to get a chance which finally came and place the ball pass Sibanda who had no choice to save it and that take the game to 1-0 in the first half.
The second half begins and Salah had another chance to make it two nil for the host team but continue to play it wide. Zimbabwe didn't have much to offer in the game as they continue to waste their effort. Ovidy Kararu's powerful shot would have put Zimbabwe back into the game but Egypt goalkeeper El Shennawi did well to save it.
Group A standing now
TEAM Gp Gd P
🇺🇬UGA 1 +2 3
🇪🇬EGY 1 +1 3
🇿🇼ZIM 1 -1 0
🇨🇩COD 1 -2 0
Zimbabwe will now face Uganda in their next game and it is a must win for them if they still want to proceed to the next level of the competition while EGY will take on COD.

I hope you find this post interesting and educating, until then, I remain my humble self @Oxygen02. Thanks For Reading 👍