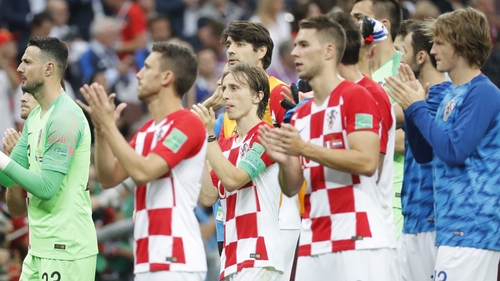 Croatia's national team lost to France 2: 4 (1: 2) in the final of the World Cup 2018. Nevertheless, the media in Zagreb do not have the slightest grudge against Zlatko Dalitch's charges. On the contrary - they emphasize at every step that Vatreni deserved the highest recognition with his attitude.
Experts did not give much chance to croats team in the confrontation with three-color, but ambitious players from the Balkans climbed to the heights of skills and were an extremely demanding opponent for their rivals.
"Glory be to you, heroes" - the journal Sportske Novosti shouts from the cover, emphasizing in its pages that "the French were not better, and they only had more luck".
Today the hero, yesterday the traitor - Luka Modrić.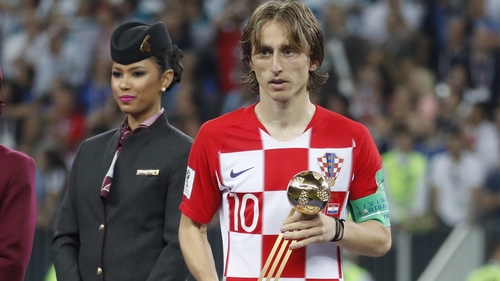 Journalists also emphasize the fact that Luka Modrić was chosen the best player of the entire tournament. The editor-in-chief of the newspaper, Mario Zorko, hits very high notes in his column. "It is the triumph of Croatia and the entire nation," he comments. Despite the defeat in the final of the World Cup, Croatia seems to be in heaven, and her fans seem not to remember that not so long ago they were very disappointed with their representation - Luka Modrić was even criticised by croats.It was demanded from him to return the captain's armband due to the fact that it came to light that Luka Modrić had a lot in common with the hated Zdravko Mamic, the most corrupted activist in the history of Croatian football. Outraged fans hung out the t-shirts with the number "10" Modrić wore and instead of his surname there was the word "Izdajnik" - that means a traitor. At the World Cup Luka Modrić was one of the biggest stars of the Croatian national team. He charmed, dribbled and assisted. His position only faltered when he did not score a penalty in a match against Denmark.
Interestingly, "SN" extensively describes each member of the silver team. Everyone except Nikola Kalinić, who after the first match of the group stage was thrown out of the team for refusing to enter the pitch. The media had no mercy for him before, calling him "the biggest loser in the World Cup", but now they have hit the attacker with an even more painful pin.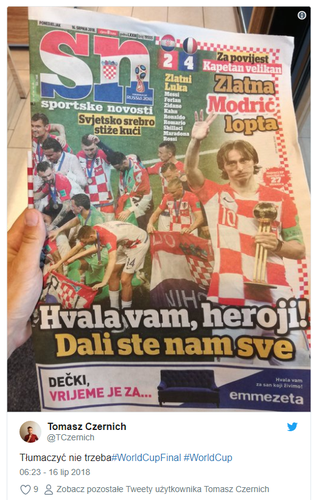 The journalists of "Jutarnji List" are also moved by the success of the Dalicia team.
"The pain after the defeat will pass quickly, the days of glory will be remembered forever" - they prophesy.
They also call the second team of the world "Croatian Spartans". The newspaper also paid a lot of attention, as well as the footballers themselves, however, also devoted to fans who have taken over the streets of the largest cities. "Although it is hard to believe, it really happened" - we read, watching the pictures of white-and-red checkered streets of cities on the occasion.