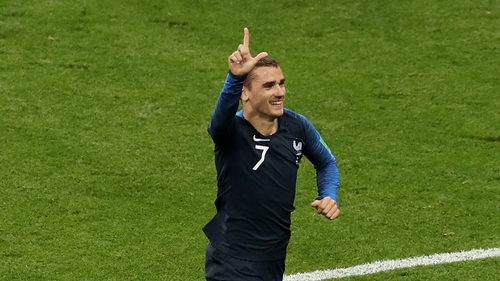 Antoine Griezmann has been planning a trip to Uruguay for a long time, and now he has another reason to go to South America. He was invited to a small country by the president, Tabare Vazquez, who sent a letter to the player.
It is well known that Antoine Griezmann feels closely related to Uruguay. Atletico Madrid star and France national team do not have any family connections, but many of his buddies come from there. The footballer has taken over many customs typical of a small South American country (about 3.5 million inhabitants), and publicly declared support for the Uruguay representation when it played, among others in Copa America.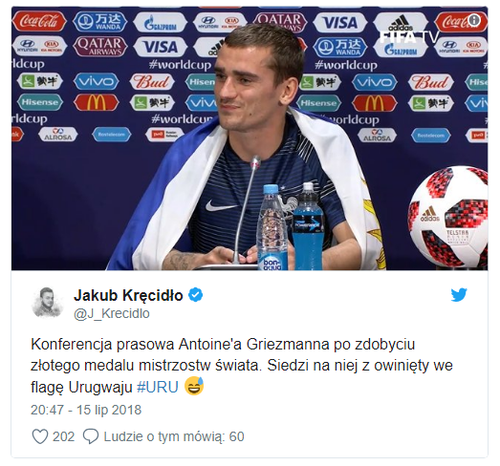 An interesting event took place during a press conference after the World Cup final in Russia. Griezmann was elected the best player of the meeting with Croatia, and at the press conference wrapped himself with the Uruguay flag. He got it from one of the South American journalists, who did not even want to ask a question, just give the Frenchman his national symbol.
Pictures of the 27-year-old with the flag went round the world. Of course, photos were also seen in Uruguay, where it was very well received. Even the president of the ountry was very interestes. It turned out that Tabare Vazquez on Monday sent a letter to Grizemann, in which he congratulates him on the gold medal of the World Cup and invites him to the country.
The letter was published on his official website. Urugayan people are grateful and proud of the player. In a letter we read: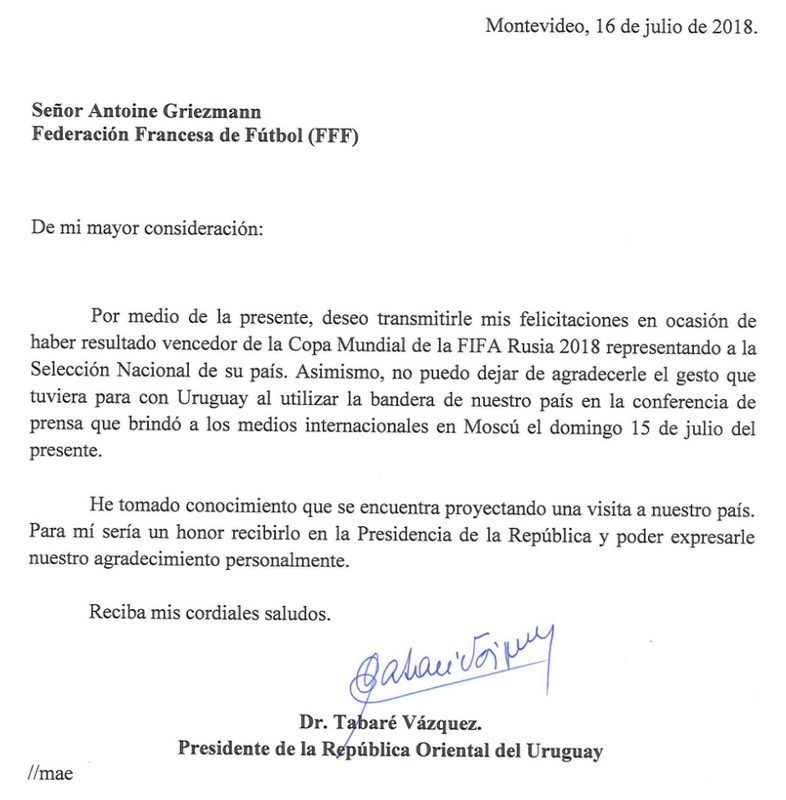 Through this letter, I would like to send my congratulations for the triumph in the world championships in Russia. I also thank you with all my heart for the gesture made in Uruguay, which was to take the flag of our country to a press conference with the participation of media representatives from around the world.
I have been informed that you are planning a visit to our country. For me it would be an honour to welcome you at the Presidential Palace of the Republic, and thank you personally. - He added.
As if that was not enough, Vazquez sent a letter to the President of France, Emmanuel Macron, in which he congratulated the Les Bleus team for winning the gold medal. It is worth noting that the president of Uruguay is a well-known football supporter - in the years 1979-1989 - he was even the president of the football team Club Atletico Progreso from Montevideo.