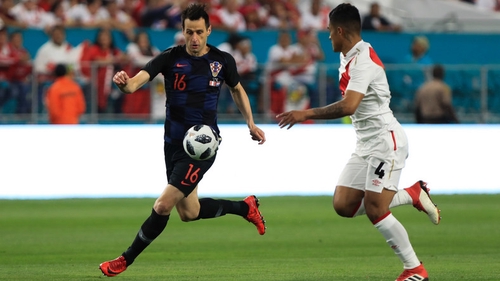 Nikola Kalinić, despite being thrown out of the Croatian team after the first match at the World Cup, will receive a silver medal for the Croatia's second place at the World Cup 2018. That's how the team's council decided.
Let me recall that the coach Zlatko Dalić wanted to let his attacker in the second half of the match with Nigeria (2: 0), but he refused to enter, explaining his backache. Then the coach argued his decision that it was not the first such case with this player, because a similar situation took place during a friendly match against Brazil in England, and then in training before the first match of the World Cup. Dalić was to consult his captain, Luca Modric, who agreed.
Kalinić, after being fired from the team (18 June), wrote to his teammates on WhatsApp that he wishes them good luck. Only two of them answered. However, when it came to voting on the medal, he gained much more support from his teammates.
- Removing Nikola from the team was a very difficult decision, but eventually it turned out that it was right. As for the medal for him, I know he will be able to pick it up. That's what the team decided, said a spokesman for the Croatian football association, Tomislav Pacak, on Wednesday at HRT.
The FIFA regulations do not specify who should receive a medal and who should not. Each federation receives 50 pucks and decides who gets the extra ones, besides the players.
Croatian supporters were definitely against rewarding the attacker. In all internet probes, the question about a possible medal for Kalinić was won by a negative answer.