In my memory forever!
There are moments in life one that are grinded there forever, for good or bad reasons. This game, is one I will never ever forget. I watched the game at home with my wife and kids and Belgium started dreadfully. Nerves got the best of them, and after an hour of play we were 0-2 down to Japan.
I remember my 10-year old son saying, "it's over, dad", and my wife was confirming him. I got mad, and said to them, if one team could turn this around, it was this Belgian team. And I said, "We will win this one, 3-2, believe me!". I have to admit, there was more hope than confidence with me, but still, I said it.
Then Jan Vertonghen made an incredibly lucky goal and about 7 minutes later it was 2-2 after an amazing move by Eden Hazard and beastly header from Marouane Fellaini. Then my confidence was stronger than ever, we would turn this around. But never could I have believed that the way we would do it, would be of such beauty.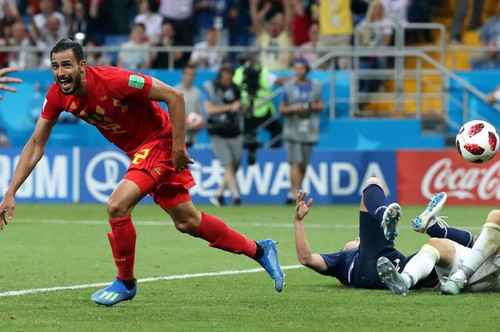 The perfect counter attack!
I remember everything of it, Courtois plucks a high corner of Japan, sees Debruyne starting to sprint and just carefully rolls the ball ahead of KDB. Kevin sprints around 70 meters with the ball at his feet and has the vista to look who is running with him and where. He perfectly nudges the ball with the outside of his right foot in the direction of Thomas Meunier to the right of him. Meunier doesn't control the ball, he immediately passes it with the inside of his right foot towards Romelu Lukaku in front of the goal. Lukaku feels that Nacer Chadli behind him is in a better position to score and dummies the ball through his legs. Chadli finishes it off with his left foot under the Japanese goalie.
What a perfect counter attack, and that in the 94th minute of the game!
My moment of the year, here you can see it once again from different angles and to the music of Celine Dion, "My heart will go on!". I could watch this forever.
Have a great New Year's Eve people.
Sincerely,
Pele23