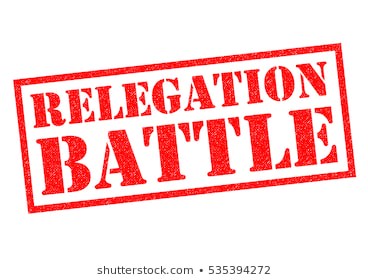 The English Premier League gradually coming to an end, with just 6/7 matches to go, the relegation battle seems to be easing off, with 3 clubs; Huddersfield Town, Fulham, and Cardiff City occupying the 3 slots, they look certain or destined to be relegated.
HUDDERSFIELD: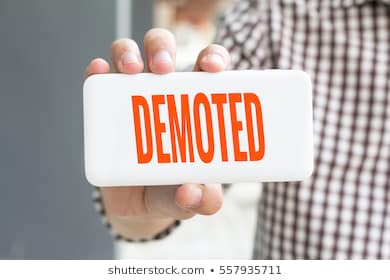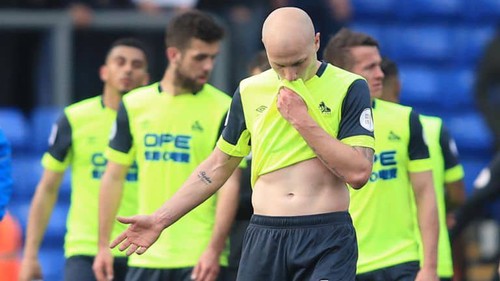 Huddersfield became the 1st of the 3 clubs to go down into the EFL Championship on Saturday afternoon with 6 league matches yet to be played when they lost 0-2 at Selhurst Park, home of Crystal Palace. The Terriers woe has been long coming, having only won 1 and drawn 1 league games since the turn of the year, and had only won 3 and drawn 5 league games all season as the stats shows. It is only a matter of time before their fate is sealed, and Crystal Palace duly obliged on Saturday. 2nd half goals from Palace's duo of Luka Milivojevic(76th-min spot-kick) and Patrick Van Aanholt(88th-min shot) condemned Huddersfield to defeat. The Terriers did play well and in fact, had the larger share of the possession, but like it was all season where they only managed just 18 goals in their 31 matches before Palace game, they were wasteful in front of Palace goal again, attempting 15 shots and just 5 on target. As they say in football, 'if you don't take the chances that comes your way, you ain't gonna win any matches', Huddersfield were made to rue their waywardness in front of their opposition.
Huddersfield Town now joined an unceremonial list of clubs that includes Derby County-2007/08 season and Ipswich Town-1994/95 season which got relegated earliest with 6 league matches to go. The Terriers' 2 years stay in the EPL is now over and will slog it out in the Championship next season.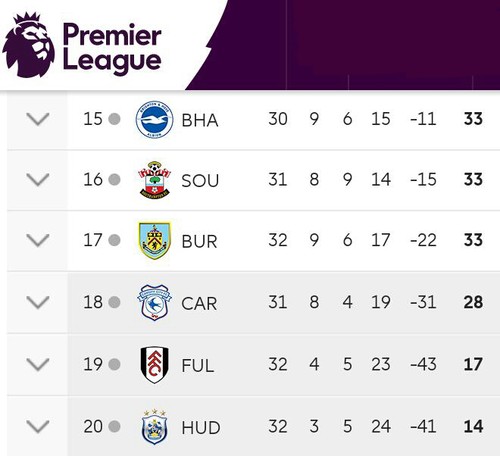 FULHAM:
The 2nd Club that will most likely join Huddersfield on the way down is Fulham. They also lost at home 0-2 to high flyers Manchester City, as they started the match in a worst possible manner, conceding as early as the 5th minute to a Bernando Silva left-footer. and then further behind in the 27th minute when Sergio Aguero went past a couple of tackles to fire home from a tight angle. Fulham was so poor on the day that they failed to register a single shot on target out of their 24 shots, it just summed up their season.
Fulham has had their fair share of a turbulent season, having gained promotion through the playoffs last season, despite investing a whole lot of the earnings from the playoff victories, Fulham have been shambolic all season, especially the defence which had let in an awful 72 goal, the highest among the 20 EPL clubs, and only scored 29 goals in return, only fellow strugglers Cardiff City(27 goals) and Huddersfield Town(18 goals) scored lesser. Fulham had had 3 managers in less than 4 months, having replaced Slavisa Jokanovic with Claudio Ranieri on November 14, 2018, and then replace Claudio Ranieri with Scott Parker on February 28, 2019. However, with all the managerial shuffle, Fulham has gone on an 8-league-game losing streak, and an immediate return to the lower tier seems imminent, except a total collapse of rival teams just outside the zone could spell a dramatic turnaround.
CARDIFF CITY:
Cardiff City is the 3rd club likeliest to join Huddersfield down the league tier. They were defeated 1-2 at home by Chelsea but the damage has been long done, a more reason the defeat to Chelsea was a bitter pill to swallow for the Bluebirds' manager, Neil Warnock who made his frustration know in his post-match conference, pointing fingers at the match officials, I think the fingers should have been directed to his teams poor performance all through the season.
Though Cardiff had more league wins(8) than Huddersfield and Fulham, just 8 wins in 31-league games so far won't get any club to nowhere. However, having played 1 match lesser than Burley which is just a place(17) above them on EPL log table, and just 5 points between them, Cardiff still relish a chance of catching and toppling Burnley, if only they can put together a string of wins, and both clubs yet to play the reverse fixture at the Turf Moor Stadium.
OTHER SUSPECTS:
The other teams battling for survival from relegation, and are in immediate threat from Cardiff includes; Brighton & Hove Albion, Southampton and Burnley. If Cardiff will catch up with any of them is a big ask, and time will certainly tell.
Thank you all for your time.